Fast and Easy Fall Meal Plan
A 5-Course Fall Feast in Under One Hour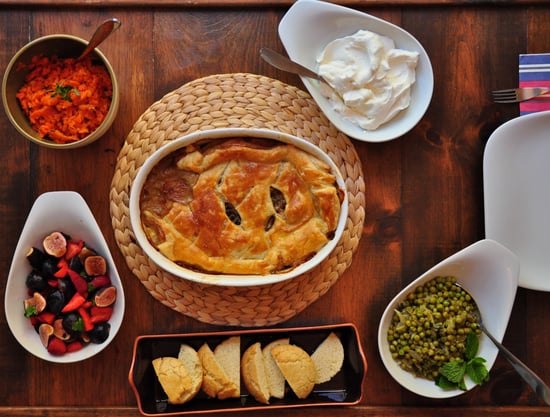 It's late, you're hungry, and that pile of delivery menus is singing its siren song, but hold up. What if you could whip up a comforting five-course British meal (including a cocktail!) in roughly the same time takeout will arrive on your doorstep? Mission impossible? We think not: provided you've done the shopping ahead of time, this can (and should) be done. Your wallet, taste buds, and dinner companions will thank you.
Gin and It Cocktail
Rather than fuss over an elaborate cocktail — steer clear of any drink that involves a blender, flamed citrus peels, dry-shaken egg whites, or muddling — stick with a classic that's only complex in flavor. All you'll need are two bar-cart staples, some ice, and a flick of a wrist to stir it all together. (Really.)
Chicken and Mushroom Pot Pie
Luxuriously rich pot pie seems an unlikely candidate for a fast and easy dinner, but thanks to a few smart tweaks, that fantasy can become reality.
Carrot Smash
Dress up carrots with a fast and free smash with a fork, an assertive dose of thyme, and a glug of grassy olive oil.
Minted Peas
Add a dose of green veggies to your dinner table with this easy, yet elegant take on minted peas.
Easy Berries and Fig Trifle
Round it out with a pared-down version of an early Fall favorite: berry shortcake. Use whatever berries look good at your market (raspberries, strawberries, blueberries, figs, and blackberries all work to great effect), add buttery shortbread cookies and vanilla whipped cream — that's it.
For extra-efficient prep, follow this step-by-step plan for assembling the entire meal all at once; just add the cocktail, say cheers, and dig in.
Photos: Lauren Hendrickson