Fast and Easy Free-form Pear Galette Recipe
Delight Thanksgiving Guests With a Rustic Pear Galette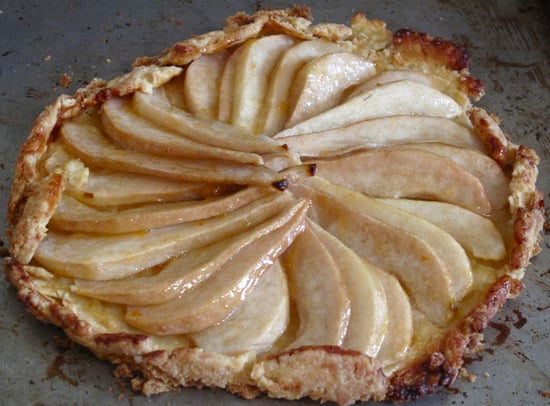 For your best Thanksgiving ever, be sure to end your meal on a high note with a memorable dessert. As an alternative to pumpkin, sweet potato, and pecan pies, offer up a pear tart as well. Unlike other structured fruit cakes and tarts, this pastry — pleated in a free-form manner that's commonly seen in France — is beautiful in an unfussy way. It's also incredibly easy to make, requiring little more than flour, fruit, butter, sugar, and eggs. For the recipe, read more.
Ingredients
1 cup all-purpose flour
1 tablespoon sugar
1/2 teaspoon salt
7 tablespoons unsalted butter — 5 tablespoons cut into small pieces and chilled, 2 tablespoons melted
1 egg
1 teaspoon milk
2 tablespoons apricot preserves, strained
2 large Bosc pears
1/2 teaspoon very hot water
Directions
Preheat the oven to 425 degrees. In a medium bowl, toss the flour with 1 teaspoon of the sugar and the salt. Cut in the cold butter until the mixture resembles fine crumbs.
In a small bowl, beat the egg with the milk. Sprinkle 2 tablespoons of the beaten egg over the flour mixture and stir. Working quickly, gather the dough into a smooth mass, squeezing it gently. Transfer the dough to a lightly floured surface and pat it into a 5-inch disk. Wrap in wax paper and refrigerate until firm but not hard, about 30 minutes.
On a lightly floured surface, roll out the dough to a 9 1/2-inch round, turning it clockwise an inch or two each time you roll to maintain an even shape. Transfer the dough to a heavy flat baking sheet. Fold up 1/4 inch of the edge of the dough.
Brush the rim with a little of the remaining beaten egg. Brush 1 tablespoon of the apricot preserves over the bottom of the dough and refrigerate while you prepare the pears.
Peel, quarter, and core the pears. Slice each quarter lengthwise into 5 thin wedges. Arrange as many of the pear wedges as can fit on the dough in a spoke pattern, overlapping them slightly. Brush the pear slices with the melted butter, and sprinkle with the remaining 2 teaspoons of sugar.
Bake the galette in the middle of the oven for 25 to 30 minutes, or until the pears are tender and the pastry is crisp and golden. Carefully slide the galette onto a rack to cool slightly.
Stir the hot water into the remaining 1 tablespoon of apricot preserves and brush on the pears. Serve the galette at room temperature.
Serves 6.
Information
Category

Desserts, Pies/Tarts

Cuisine

French