Fast & Easy Giada De Laurentiis Recipe For Edamame, Bean, and Pecorino Cheese Salad
Treat Yourself Right With an East-West Inspired Bean Salad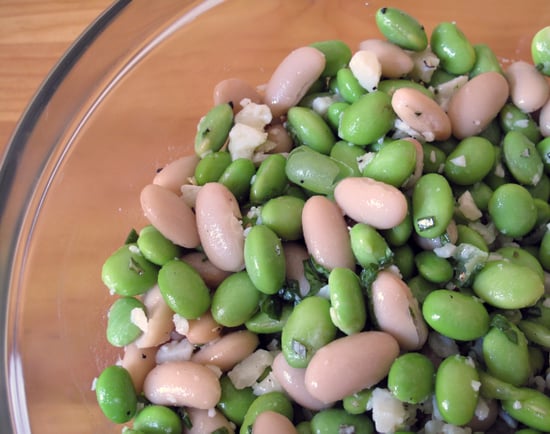 I've always been mindful of what I'm putting into my body, with a focus on wholesome, balanced meals whenever possible. But the holidays admittedly derailed me quite a bit. Now, with yuletide celebrations behind me, I want to make sure that I set a new decade off on the right foot.
That's why, when friends came to visit, I ditched the restaurant reservations in favor of a protein-rich, high-fiber meal that included not only my favorite roast beef Spring rolls, but also a super speedy bean salad.
Rosemary, pecorino romano, and cannellini beans pay tribute to Italy, but the shelled edamame and garlic add a pop of color and Asian flair. Make this different bean salad in five minutes when you keep reading.
Ingredients
2 tablespoons extra virgin olive oil
2 cloves garlic, minced
2 teaspoons finely chopped fresh rosemary leaves
2 cups (9 ounces) shelled edamame beans
1 (15-ounce) can cannellini beans, drained and rinsed
5 ounces pecorino, cut into 1/2-inch chunks
1/4 cup chopped fresh flat-leaf parsley
1/4 teaspoon kosher salt
1/4 teaspoon finely ground black pepper
Directions
In a small, nonstick skillet, heat the oil over medium-low heat. Add the garlic and cook until fragrant, but not brown, about 30 seconds. Remove the pan from the heat and stir in the rosemary. Set aside.
Combine the edamame beans, cannellini beans, pecorino cheese, parsley, and salt and pepper in a serving bowl. Add the garlic mixture and toss well until all the ingredients are coated.
Serves 4 to 6.
Information
Category

Other, Salads

Cuisine

North American