Fast and Easy Microwaveable Lunch
A Wholesome Microwaveable Meal That's Infinitely Better Than a Frozen Dinner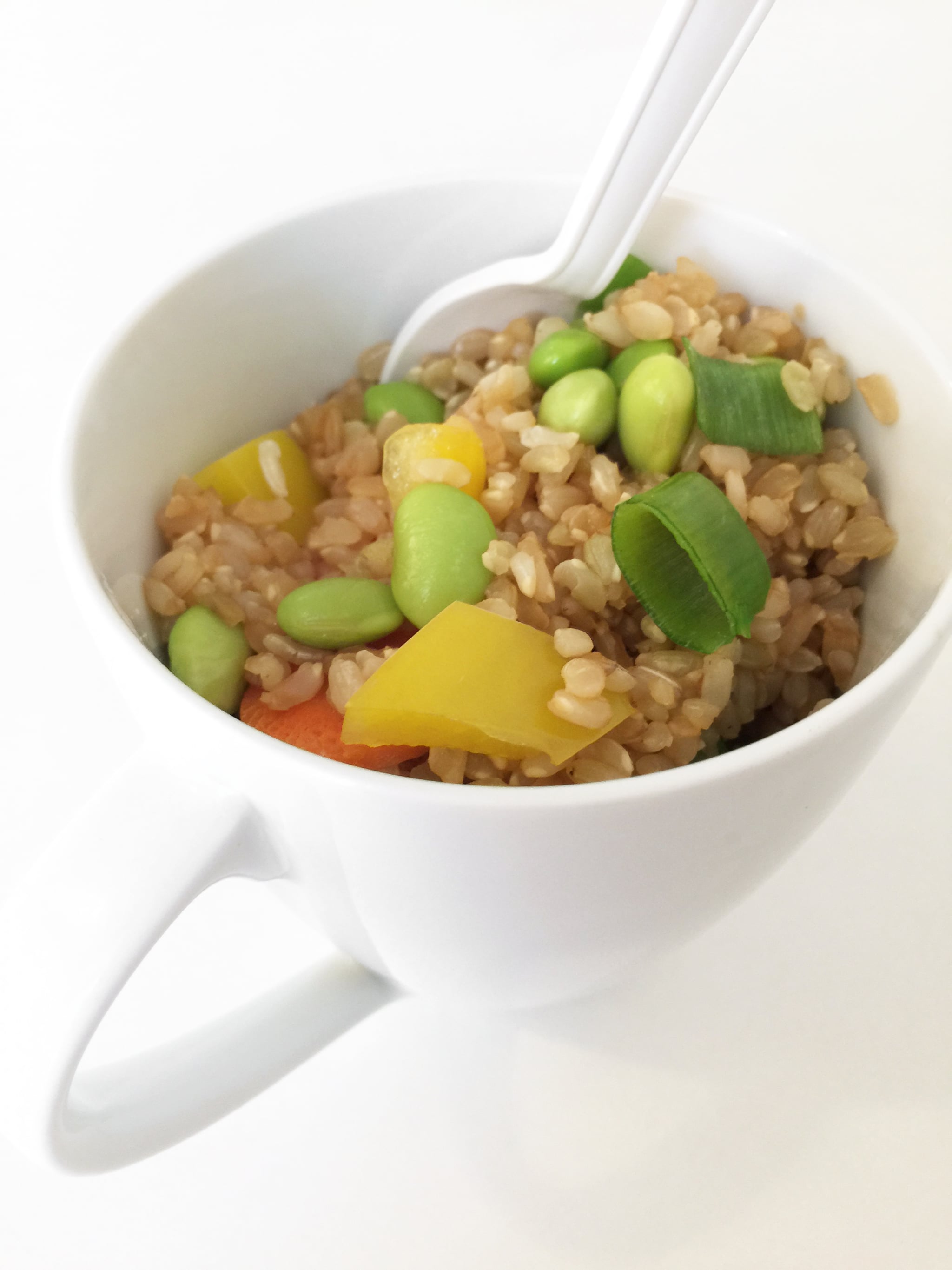 During my college days, I would get creative with the salad bar and the microwave to prep more wholesome meals, yet as a busy adult living solo, I find myself always on the lookout for snappy yet healthy meals. When I saw this recipe for brown rice and edamame from Mug Meals ($17) by Dina Cheney, I dog-eared it immediately. And once I finally made it, my taste buds were not disappointed! It almost tastes like steamed fried rice, if there ever was such a thing. Here's a pro tip: keep frozen rice (in the frozen section of your grocery store) and frozen edamame always stocked in your fridge so you can turn to this meal for weekday lunches or dinners.
Chinese Brown Rice Salad With Edamame
From Mug Meals by Dina Cheney
Notes
To add even more protein to this nourishing dish — which is also delicious chilled — stir in some diced extra-firm tofu. For a prettier presentation, pour the salad onto a plate.
Editor's note: Make it vegan by using agave instead of honey. I used yellow bell peppers in this recipe instead of red.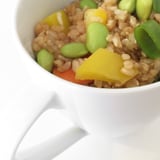 Ingredients
1 tablespoon thinly sliced trimmed scallions (dark green parts only)
2 teaspoons unseasoned rice vinegar
2 teaspoons low-sodium soy sauce
1 teaspoon honey
1/8 teaspoon minced garlic
1/8 teaspoon grated fresh ginger
1/2 cup packed cooked brown rice, short or long grain
1/3 cup packed frozen edamame, thawed
2 tablespoons finely grated peeled carrots
2 tablespoons small-dice red bell peppers
Directions
In a small bowl, stir together the scallions, rice vinegar, soy sauce, honey, garlic, and ginger, then stir in the remaining ingredients. Pour into a 12-ounce mug.
Cover and microwave until warm, about 1 minute.
Source: Reprinted with permission from Mug Meals by Dina Cheney, published by The Taunton Press in 2015
Information
Category

Rice, Main Dishes

Cuisine

Other Asian

Yield

Serves 1
Image Source: POPSUGAR Photography / Anna Monette Roberts