Fast and Easy Picadillo-Stuffed Peppers Recipe
Monday's Leftovers: Picadillo-Stuffed Peppers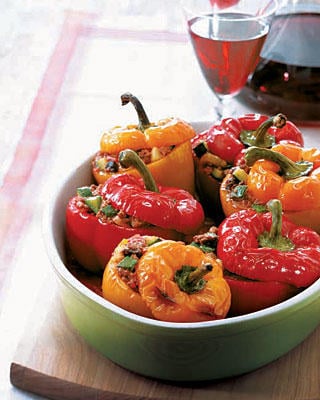 If there's one all-purpose dinner that's widely overlooked, it's stuffed peppers. Not only can they be very speedy and simple in preparation, but when stuffed with meat, they also make for a well-balanced meal.
The multicolored selection of bell peppers (red, green, yellow, even purple) makes for a colorful and attractive serving vehicle.
The beauty of this recipe is its adaptability; use leftover ground beef from crockpot lasagna — or, if you avoid red meat, ground turkey or chicken. For a quick weeknight dinner that also works well for entertaining, read more.


Ingredients
6 medium peppers, preferably red and yellow
1 jar (26 oz) green and black olive pasta sauce
1 lb lean ground beef
2 small zucchini (12 oz), scrubbed and diced
1-1⁄2 cups chopped onions
2 tsp minced garlic
1⁄2 tsp ground cinnamon
1⁄2 tsp cumin
1⁄2 tsp salt
1⁄2 tsp pepper
1⁄3 cup raisins
1 Tbsp cider vinegar
1 Tbsp sugar
2 tsp olive oil
Directions
Cut 1⁄4 off stem end of peppers; remove seeds. Stand peppers and tops in a microwave-safe baking dish. Add 1⁄2 cup water, cover with vented plastic wrap and microwave on high 5 minutes, or until peppers are crisp-tender. Stir 11⁄2 cups pasta sauce into water in dish.
Meanwhile, sauté beef, zucchini and onions in a large nonstick skillet over medium-high heat, breaking up meat, 7 minutes, or until beef is no longer pink and vegetables are almost tender.
Stir in garlic, cinnamon, cumin, salt and pepper; cook 1 minute until fragrant. Remove from heat; stir in raisins, vinegar, sugar and remaining sauce. Spoon into peppers; replace tops. Cover tightly and refrigerate up to 2 days.
To bake: Heat oven to 400°F. Uncover baking dish; brush peppers with the oil. Bake uncovered 30 minutes, or until sauce bubbles and pepper tops are lightly charred.
Serves 6.

Nutritional information per serving: 392 Calories; 23 g fat (23 g sat), 57 mg cholesterol; 28 g carbohydrates; 17 g protein; 6 g fiber; 960 mg sodium
Information
Category

Main Dishes, Beef

Cuisine

North American