Fast and Easy Pickled Tomato Recipe
Easy Pickling: Farm-Stand Tomatoes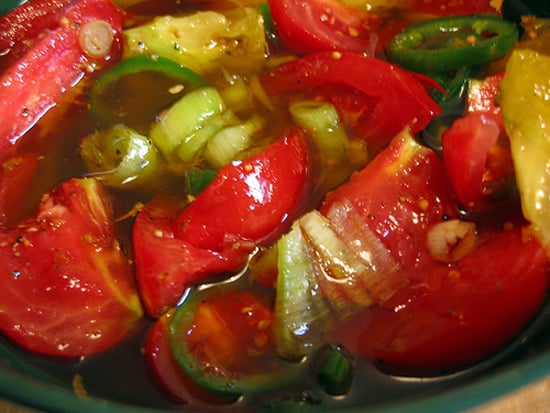 If you can't bear the thought of this year's beloved heirloom and Early Girl tomato crop coming to an end, there are two things you can do to prolong your enjoyment of Summer's sweet and seedy fruits. If you're really itching to enjoy them in a few months, learn how to can them. Or, if you find the idea of pressurizing any sort of jar in boiling water intimidates you, there's always quick-and-dirty pickling.
If you belong to the latter camp, I highly recommend this farm-stand tomato recipe; it only requires a few hours before it's totally ready to consume. These pickled tomatoes have a smoky, slightly spicy flavor that comes from cumin, fresh ginger, and jalapeños. The high proportion of olive oil in the base imparts a mild flavor on the tomatoes (although you can play with the proportions for a more pickled taste), and the tomatoes last up to three days when refrigerated. Keep reading to see the recipe with step-by-step photos.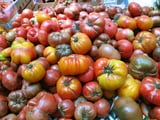 Ingredients
1 cup rice vinegar
1/4 cup light brown sugar
1 teaspoon salt
1 cup extra-virgin olive oil
1 garlic clove, minced
1 1/2 teaspoons finely grated fresh ginger
1 teaspoon mustard seeds
1 teaspoon coarsely ground black pepper
1 teaspoon ground turmeric
1 teaspoon ground cumin
Pinch of cayenne pepper
6 tomatoes (1-1/2 pounds), each cut into 6 wedges
4 scallions, white and tender green parts only, thinly sliced
2 jalapeños, thinly sliced into rings and seeded
Directions
In a medium saucepan, bring the vinegar, brown sugar, and salt to a boil, stirring. Remove from the heat.
In a medium skillet, heat the oil. Add the garlic, grated ginger, mustard seeds, black pepper, turmeric, ground cumin, and cayenne pepper and cook over low heat until fragrant, about 2 minutes. Carefully pour the hot oil into the vinegar mixture.
In a large heatproof bowl, combine the tomatoes, scallions, and jalapeños. Stir in the hot pickling liquid and let stand at room temperature for 4 hours or refrigerate for 8 hours, then serve.
Serves 6 to 8.
Information
Category

Other, Condiments/Sauces

Cuisine

Other