Fast & Easy Real Simple Recipe For Spaghetti With Beef Mushroom Sauce
Monday's Leftovers: Spaghetti With Beef Mushroom Sauce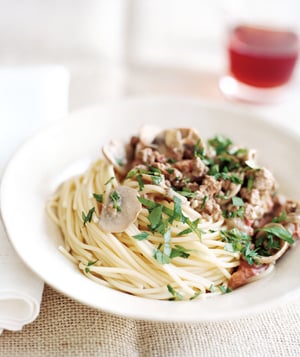 There's a reason why spaghetti with meat sauce is America's go-to weeknight meal: it tastes like comfort, works well with a budget, and comes together quickly.
Avoid spaghetti palate fatigue with an update on the old favorite: button mushrooms, heavy cream, and parsley add a Stroganoff-like twist to a classic sauce made from leftover ground beef.
For a healthier alternative, sub whole wheat, high-fiber pasta for standard spaghetti, and swap out evaporated milk for the heavy cream. Get to know a new dinnertime favorite when you keep reading.
Ingredients
1 pound dry spaghetti
2 tablespoons olive oil
1 pound button mushrooms, thinly sliced
2 cloves garlic, finely chopped
1 pound ground beef
1 teaspoon kosher salt
1/4 teaspoon black pepper
1 14.5-ounce can diced tomatoes, undrained
1 cup heavy cream
1 cup (4 ounces) grated Parmesan
1/2 cup fresh flat-leaf parsley leaves, roughly chopped
Directions
Cook the spaghetti according to the package directions.
Meanwhile, heat the oil in a large saucepan over medium heat. Add the mushrooms and cook, stirring occasionally, for 6 minutes.
Add the garlic, beef, salt, and pepper. Cook until no trace of pink remains, about 5 minutes.
Spoon off and discard any fat. Add the tomatoes and their juices and bring to a boil. Reduce heat and stir in the cream and 3/4 cup of the Parmesan. Simmer until the sauce has thickened slightly, about 3 minutes.
Drain the pasta and return it to the pot. Add the sauce and toss. Divide among plates and sprinkle with the remaining Parmesan and the parsley.
Serves 4.
Information
Category

Main Dishes, Beef

Cuisine

North American