Fast And Easy Recipe For Blackened Salmon With Broccoli Rabe
Monday's Leftovers: Blackened Salmon With Broccoli Rabe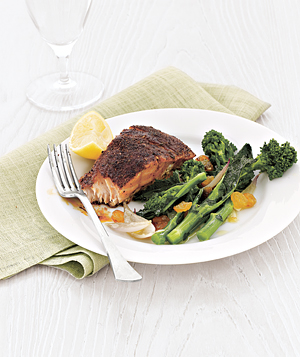 After several consecutive weeks of too much celebrating, I'm trying to focus on eating healthful, clean meals. Tonight, I'm taking advantage of salmon left over from last night's dinner and pulling together a light, Cajun-inspired dinner that'll be ready in twenty minutes.
Blackened fish is so easy that even my kitchen-averse boyfriend is able to make it. The key to the dish's healthy flavor is not too much oil and lots of Cajun seasoning, a dynamic mix of seasonings such as salt, garlic, cayenne, chili powder, onion, and paprika. Fill up by pairing the sautéed broccoli with some roasted potatoes.
For a healthy yet satisfying supper tonight, read more.
Ingredients
4 6-ounce pieces skinless salmon fillet
2 tablespoons Cajun seasoning or blackened spice mix
1 bunch broccoli rabe (about 1 pound)
1 tablespoon olive oil
2 shallots, sliced
Kosher salt
1/4 cup golden raisins
1 lemon, cut into wedges
Directions
Heat a large skillet over medium heat. Coat both sides of the salmon with the seasoning and cook, covered, until opaque throughout and blackened, 3 to 4 minutes per side.
Meanwhile, in another skillet, bring the broccoli rabe and 1/2 cup water to a simmer. Cook, covered, tossing occasionally, until tender, 3 to 4 minutes; drain and transfer to a plate.
Wipe out the second skillet and heat the oil over medium heat. Add the shallots and 1/4 teaspoon salt and cook until softened, about 3 minutes. Mix in the raisins and broccoli rabe. Serve with the salmon and lemon.
Serves 4.
Nutritional information per serving: Calories 339, Fat 14g, Sat Fat 2g, Cholesterol 90mg, Sodium 591mg, Protein 37g, Carbohydrate 17g, Fiber 3g.
Information
Category

Main Dishes, Fish

Cuisine

Cajun/Creole