Fast and Easy Recipe For Broccolini and Tomato Soup
Easy Sunday Dinner: Broccolini and Tomato Soup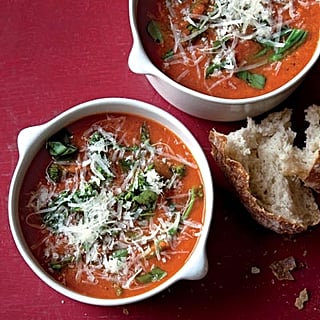 Whether you're a vegetarian or not, it's a good idea to make the move toward eating less meat and more vegetables — for environmental, health, and budgetary reasons alike. If you've already started with meatless Mondays and want to take it to the next step, apply the same principle to your Sundays as well. You'll begin the week on a lighter step. Whip up a nontraditional vegetable soup that calls for softening, then puréeing carrots, celery, onion, and two different types of tomatoes.
For a little contrast in texture, drop in florets of broccolini and pieces of bread. Warm up to a new soup idea after the break.
Ingredients
2 tablespoons extra-virgin olive oil
1 small carrot, chopped
2 small ribs celery, finely chopped
1 onion, chopped
3 cloves garlic, finely chopped
1 teaspoon dried oregano or marjoram
Salt and pepper
1 28-ounce can diced or whole fire-roasted tomatoes
1 14.5-ounce can stewed tomatoes
2 cups chicken or vegetable stock
2 bunches broccolini, cut into 2 1/2-inch florets
8 to 10 basil leaves, torn
Grated pecorino-romano cheese, for topping
Crusty bread, for serving
Directions
In a medium soup pot, heat the extra-virgin olive oil over medium heat. Stir in the carrot, celery, onion, garlic and oregano; season with salt and pepper. Cover the pot and cook, stirring occasionally, until slightly softened, about 5 minutes. Add the diced and stewed tomatoes and the chicken stock and bring to a simmer; cook until the vegetables are tender, about 20 minutes.
Meanwhile, bring a large saucepan of salted water to a boil. Add the broccolini and cook until crisp-tender, 3 to 4 minutes. Drain.
Using an immersion blender or a blender, puree the soup. Stir in the broccolini and basil; season with salt and pepper. Serve with grated cheese and crusty bread.
Serves 4.
Information
Category

Other, Soups/Stews

Cuisine

North American