Fast and Easy Recipe For Cheesy Beans and Franks
Monday's Leftovers: Cheesy Beans and Franks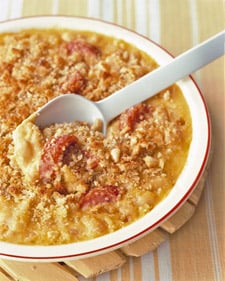 After a mammoth grillfest, I'm always stuck with leftovers, and the last thing I want to do is make another run to the grocery store. Today, I plan on making a laid-back meal using items I already have on hand so that none of it goes to any waste. I'll prepare a dish I like to call cheesy beans and franks.
It's a cross between two comfort food faves: mac and cheese and cassoulet. Instead of carbohydrate-rich macaroni, I'm subbing in white beans and using frankfurters to ramp up the meaty flavor and texture. For a creative and fresh way to make the most of yesterday's leftovers, read more.


Ingredients
2 tablespoons olive oil
1 medium onion, finely chopped
2 1/2 tablespoons all-purpose flour
1 3/4 cups milk
3 1/2 cups grated (9 ounces) yellow cheddar cheese
2 cans (15 1/2 ounces each) white beans, drained and rinsed
2 cups smoked beef franks (7 ounces), halved lengthwise and cut crosswise into 1/2-inch-thick half-moons
1/2 teaspoon salt
1/4 teaspoon ground pepper
1/2 cup finely crushed croutons
Directions
Preheat oven to 375 degrees. In a medium saucepan, heat oil over medium-high heat. Add onion, and saute, stirring frequently, until translucent, 3 to 4 minutes. Add flour, and stir to coat onion. Reduce heat to medium. While stirring with a whisk, add the milk in a steady stream; continue whisking constantly, especially in the corners of the pan, until combined. Continue to cook, whisking constantly, until sauce begins to thicken slightly, about 2 minutes. Add the cheese 1 cup at a time, stirring to combine after each addition.
Remove from heat, and stir in the beans and sausage. Season with salt and pepper, and transfer to an 8-inch square or 6-cup-capacity ovenproof dish.
Sprinkle croutons over the top of the casserole, and bake until edges are bubbling, about 15 minutes. Remove from oven. Let cool slightly before serving.
Serves 4 to 6.
Information
Category

Main Dishes, Beef

Cuisine

North American