Fast and Easy Recipe For Chicken and Mushroom Risotto
Monday's Leftovers: Mushroom and Chicken Risotto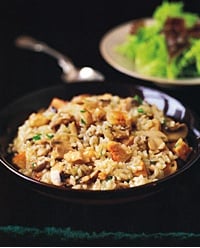 Hectic lineup of events scheduled for the week? Then stay in tonight to get organized, and stir up a batch of mushroom and chicken risotto.
This comforting Italian recipe calls for a number of items you likely already have on hand: leftover boneless, skinless chicken breasts, butter, onion, arborio rice, and Parmesan cheese. Toss in slices of mushrooms and chopped fresh parsley for an omnivore's feast.
Not only does this meal save you a shopping trip, but chopping the chicken will help keep the cooking time under one hour. For a speedy and sumptuous meal, keep reading.
Ingredients
2 tablespoons butter
1/2 pound mushrooms, cut into thin slices
2/3 pound boneless, skinless chicken breasts (about 2), cut into 1/2-inch pieces
1 teaspoon salt
1/4 teaspoon fresh-ground black pepper
5-1/2 cups canned low-sodium chicken broth or homemade stock, more if needed
1 tablespoon cooking oil
1/2 cup chopped onion
1-1/2 cups arborio rice
1/2 cup dry white wine
1/2 cup grated Parmesan cheese, plus more for serving
2 tablespoons chopped fresh parsley
Directions
In a large pot, heat the butter over moderate heat. Add the mushrooms. Cook, stirring frequently, until the mushrooms are browned, about 5 minutes. Add the chicken, 1/4 teaspoon of the salt, and the pepper. Cook until the chicken is just done, 3 to 4 minutes. Remove the mixture from the pan. In a medium saucepan, bring the broth to a simmer.
In the large pot, heat the oil over moderately low heat. Add the onion and cook, stirring occasionally, until translucent, about 5 minutes. Add the rice and stir until it begins to turn opaque, about 2 minutes.
Add the wine and the remaining 3/4 teaspoon salt to the rice. Cook, stirring frequently, until all of the wine has been absorbed. Add about 1/2 cup of the simmering broth and cook, stirring frequently, until it has been absorbed. The rice and broth should bubble gently; adjust the heat as needed. Continue cooking the rice, adding broth 1/2 cup at a time and allowing the rice to absorb it before adding the next 1/2 cup. Cook the rice in this way until tender, 25 to 30 minutes in all. The broth that hasn't been absorbed should be thickened by the starch from the rice. You may not need to use all the liquid, or you may need more broth or some water.
Stir in the chicken and mushrooms, the Parmesan, and the parsley and heat through. Serve the risotto with additional Parmesan.
Serves 4.
Information
Category

Rice, Main Dishes

Cuisine

Italian