Fast & Easy Recipe For Chicken Thighs With Leeks & Shiitake Mushrooms
Monday's Leftovers: Chicken Thighs With Leeks and Shiitakes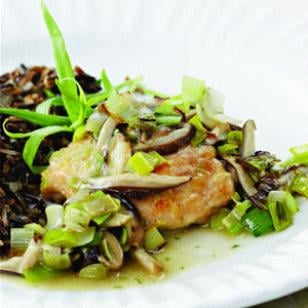 Chicken, when served with a saucy side of leeks and mushrooms, makes for a smooth-sailing weeknight supper. Use healthy skinless chicken thighs from last night's meal as the star of the dish, simmering and serving it in a white wine sauce.
Although white wine, mushrooms, and leeks are a standard flavor combination, change things up by switching out button mushrooms for Asian shiitakes and stirring in anise-tinged tarragon at the end. Make this fast and easy dinner for two tonight when you read more.
Chicken Thighs With Leeks and Shiitakes
From Eating Well
Ingredients
2 boneless, skinless chicken thighs, trimmed of fat
1 tablespoon all-purpose flour
3 teaspoons extra-virgin olive oil, divided
1 large leek, white and light green parts only, diced
4 ounces shiitake mushrooms, stemmed and sliced
1/2 cup reduced-sodium chicken broth
1/4 cup dry white wine
1/8 teaspoon salt
1 teaspoon minced fresh tarragon or 1/2 teaspoon dried
Directions
Place chicken on a plate and sprinkle all over with flour. Reserve the excess flour.
Heat 2 teaspoons oil in a large nonstick skillet over medium-high heat. Add the chicken and cook, turning once, until browned on both sides, 4 to 6 minutes total. Transfer to a plate and cover with foil to keep warm.
Add the remaining 1 teaspoon oil, leek and mushrooms to the pan. Cook over medium-high heat, stirring often, until the vegetables are tender, 6 to 8 minutes.
Sprinkle the reserved flour over the vegetables and stir to coat. Add broth, wine and salt and bring to a simmer. Return the chicken to the pan and simmer, turning the chicken occasionally, until it is cooked through, 4 to 6 minutes. Stir in tarragon.
Serves 2.
Nutritional information per serving: 330 calories; 16 g fat (3 g sat, 9 g mono); 77 mg cholesterol; 18 g carbohydrates; 24 g protein; 2 g fiber; 256 mg sodium; 329 mg potassium.
Information
Category

Poultry, Main Dishes

Cuisine

North American