Fast and Easy Recipe and Gourmet Recipe For Banana Pudding
Banana Pudding Two Ways — Beginner and Expert
Making banana pudding is as easy as whipping up some instant pudding and adding bananas, Nilla wafers, and Cool Whip. Even the slightest homemade spin on this classic American dessert will wow guests at a Memorial Day barbecue or Summer soiree.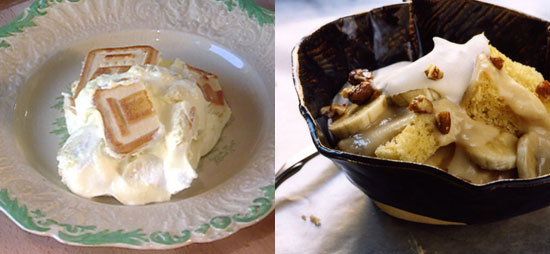 Curious as to how complicated banana pudding can get, I happened upon a brilliant bourbon-spiked recipe with glazed pecans and homemade sponge cake. Or, you can kick it old-school with something closer to the original Southern variety, courtesy of Paula Deen. To get both recipes,
.
Ingredients
2 bags Pepperidge Farm Chessmen cookies
6 to 8 bananas, sliced
2 cups milk
1 (5-ounce) box instant French vanilla pudding
1 (8-ounce) package cream cheese, softened
1 (14-ounce) can sweetened condensed milk
1 (12-ounce) container frozen whipped topping thawed, or equal amount sweetened whipped cream
Directions
Line the bottom of a 13 by 9 by 2-inch dish with 1 bag of cookies and layer bananas on top.
In a bowl, combine the milk and pudding mix and blend well using a handheld electric mixer. Using another bowl, combine the cream cheese and condensed milk together and mix until smooth. Fold the whipped topping into the cream cheese mixture. Add the cream cheese mixture to the pudding mixture and stir until well blended.
Pour the mixture over the cookies and bananas and cover with the remaining cookies. Refrigerate until ready to serve.
Information
Category

Desserts, Puddings/Mousse

Cuisine

North American
Bourbon Banana Pudding With Glazed Pecans
From Gourmet
Ingredients
For pudding and candied pecans
3 large egg yolks
3/4 cup plus 2 tablespoons packed light brown sugar, divided
3 1/2 tablespoons cornstarch
1/4 teaspoon salt
3 cups whole milk
5 teaspoons bourbon
1 teaspoon pure vanilla extract
1 1/2 teaspoons mild honey
1 1/2 teaspoons water
3/4 cup pecan halves
For spongecake and syrup
3 large eggs
1/2 cup plus 2 tablespoons sifted cake flour (not self-rising; sift before measuring)
1/4 teaspoon salt
1/3 cup plus 1 tablespoon granulated sugar, divided
1/2 teaspoon pure vanilla extract
2 1/2 tablespoons unsalted butter, melted and cooled
1/4 cup bourbon
1/4 cup water
For assembly
3 ripe medium bananas
1/2 cup heavy cream
1 teaspoon granulated sugar
Directions
Make pudding and glaze pecans:
Lightly beat yolks in a medium bowl.
Whisk together 3/4 cup brown sugar, cornstarch, and salt in a small heavy saucepan. Slowly whisk in milk, then boil over medium heat, whisking constantly, until pudding is thick, about 3 minutes. Gradually add hot pudding to yolks, whisking constantly, then whisk in bourbon and vanilla.
Cover surface with wax paper and chill until cold, about 2 hours.
Preheat oven to 350°F with rack in middle.
Warm remaining 2 Tbsp brown sugar with honey and water in a small saucepan, stirring until sugar has dissolved. Stir in pecans, tossing to coat, then transfer to a lightly oiled 4-sided sheet pan.
Bake, stirring occasionally, until golden brown and shiny, about 15 minutes. Transfer pecans with a metal spatula to a rack to cool. Coarsely chop, reserving 4 halves for garnish.
Make spongecake and syrup:
Preheat oven to 400°F with rack in middle. Butter and flour cake pan. Warm eggs (in shell) in hot water 5 minutes.
Whisk together flour and salt.
Beat eggs, 1/3 cup sugar, and vanilla with an electric mixer at high speed until tripled in volume and thick enough to form a wide flat ribbon that holds its shape on top of batter when beater is lifted, 7 to 8 minutes in a stand mixer or 14 to 16 with a handheld.
Transfer to a wide bowl. Sift flour mixture, one third at a time, over batter, folding gently but thoroughly with a rubber spatula after each addition. Stir together butter and about 1/4 cup batter in a small bowl until combined, then fold butter mixture into batter gently but thoroughly.
Pour batter into cake pan and smooth top. Bake until golden brown and edges start to pull away from sides of pan, 12 to 14 minutes.
Meanwhile, bring bourbon, water, and remaining Tbsp sugar to a boil, stirring until sugar has dissolved. Remove from heat.
Transfer cake in pan to a rack, then run a thin knife between cake and side of pan and cool 5 minutes. Invert cake onto rack.
Assemble dessert:
Cut off one third of cake, reserving for another use. Brush remaining cake with half of bourbon syrup. Carefully turn cake right side up and brush with remaining syrup. Cool completely, about 30 minutes.
Cut cake into 1 1/2-inch squares. Thinly slice bananas.
In 4 bowls or 10-oz glasses make 2 layers each of pudding, bananas, cake (use all of it), and chopped pecans, then top with a third layer of pudding, bananas, and chopped pecans.
Chill, loosely covered, 1 hour. Let stand at room temperature 20 minutes before serving.
Whip cream with sugar until it holds soft peaks, then dollop on top of each dessert. Garnish with reserved pecan halves.
Cooks' notes
Pudding can be made 1 day ahead and chilled.
Glazed pecans can be made 3 days ahead and kept (leave whole), layered between sheets of parchment paper in an airtight container, at room temperature.
Cake can be baked and cooled (but not soaked with syrup) 1 day ahead and kept, wrapped in plastic wrap, at room temperature. Brush with syrup before using.
Store-bought spongecake can be substituted for homemade. Assembled desserts can be chilled up to 6 hours.
Serves 4.
Information
Category

Desserts, Puddings/Mousse

Cuisine

North American