Fast and Easy Recipe For Grilled, Seared Tuna Skewers
Sunday BBQ: Grilled Tuna Skewers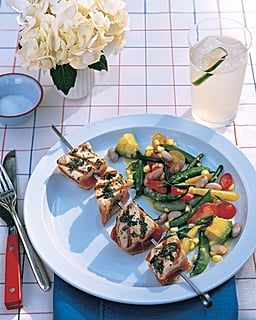 Whenever the mercury rises, I find myself craving delicate, no-cook seafood dishes — the less filling, the better. My favorite thing to do right now is to sear tuna on the grill, not until it's cooked through, but just enough for its exterior to be licked with a bit of a crusty char. That way, it's still tender, succulent, and refreshing.
For added flavor, I'd suggest brushing the fish with a basic marinade, such as this version with fresh cilantro leaves, lime juice, and olive oil. Don't fret if you aren't a cilantro fan; it'd work just as well with another aromatic leaf like basil or parsley. For the super-snappy recipe, read more.


Ingredients
1 1/2 pounds sushi-grade yellowfin tuna, cut into 1 1/2-inch cubes
1/4 cup plus 2 tablespoons extra-virgin olive oil
3 tablespoons chopped fresh cilantro
3 tablespoons fresh lime juice (from 2 limes)
Coarse salt and freshly ground pepper
Directions
Heat a grill pan over medium heat or preheat a charcoal or gas grill to medium. (If you're using a charcoal grill, coals are ready when you can hold your hand 5 inches above grill for just 5 to 6 seconds.) Toss tuna with 1 tablespoon oil. Thread tuna onto 4 skewers.
Combine cilantro, lime juice, and 1/4 cup oil. Season with salt and pepper. Reserve 3 tablespoons.
Brush pan or grill grate with remaining tablespoon oil. Grill tuna, turning skewers and brushing tuna occasionally with lime sauce, to desired doneness, about 2 minutes per side for rare. Transfer skewers to a serving plate, and brush with reserved lime sauce. Serve immediately.
Serves 4.
Information
Category

Main Dishes, Fish

Cuisine

North American