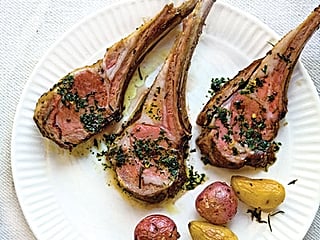 If you don't have elaborate plans etched out for tonight, splurge on some lamb chops for a festive dinner that's elegant, yet easy and fast to prepare. Although this cut of lamb isn't cheap, it's a dish customarily consumed on Easter Sunday, and takes next to no time to cook at all. Serve the chops drizzled with a tarragon, mint, parsley, and caper-flecked salsa verde.
Add a side of asparagus, orzo pilaf, and you've got a complete Easter feast in less than 60 minutes. For the recipe, read more.
Lamb Chops With Mint Salsa Verde
From Saveur
Ingredients
4 1"-thick lamb loin chops (about 1 lb), or frenched lamb rib chops
2 tbsp. plus 3⁄4 cup extra-virgin olive oil
Kosher salt and freshly ground black pepper
2 cups loosely packed fresh mint leaves, finely chopped
1⁄2 cup flat-leaf parsley leaves, finely chopped
2 tbsp. finely chopped fresh tarragon leaves
1 tbsp. salt-packed capers, soaked, rinsed, drained, and finely chopped
1⁄4 tsp. crushed red chile flakes
6 oil-packed anchovy filets, drained and finely chopped
1 clove garlic, finely chopped
Directions
Put lamb into a small baking dish, rub with 2 tbsp. oil, and season with salt and pepper; set aside to let rest for 30 minutes.
Meanwhile, make the salsa verde: Combine mint, parsley, tarragon, capers, chile flakes, anchovies, and garlic in a medium bowl. Slowly drizzle in remaining oil while stirring with a fork to make the salsa verde; set aside.
Build a medium-hot fire in a charcoal grill or set gas grill to medium-high heat. (Alternatively, heat a cast-iron grill pan over medium-high heat.) Add loin chops and cook, flipping once, until browned and crusty and cooked to desired temperature, 6–8 minutes for medium rare if using loin chops (rib chops will take only 4 minutes or so to reach medium rare). Transfer lamb to a platter. Stir sauce and drizzle over chops, reserving some of the sauce to serve on the side.
Serves 2.
Information
Category

Main Dishes, Lamb

Cuisine

Mediterranean/Middle Eastern