Fast & Easy Recipe for Linguine With Zucchini and Chickpeas
Monday's Leftovers: Linguine With Zucchini and Chickpeas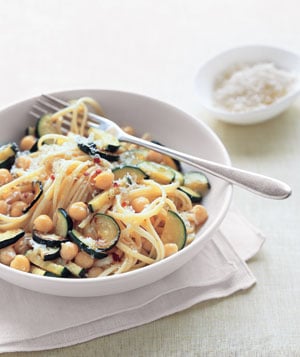 A hectic start to the week calls for a laid-back Monday night meal that's light on time and fuss. Make it both meatless and stress-free by composing a basic pasta dish from last night's leftover zucchini, as well as pantry items you've already got on hand.
Rather than overpowering the mellow flavors of garbanzo beans and zucchini, dress them simply with salt and your favorite olive oil, then infuse the oil with garlic and red pepper for a bit of bite. Toss in al dente pasta and grated Parmesan, and you've got a drama-free dinner. Want the recipe? Get it now.


Ingredients
12 ounces linguine (3/4 of a box)
2 tablespoons olive oil
3 small zucchini, cut into thin half-moons
Kosher salt
1 15-ounce can chickpeas, rinsed
2 cloves garlic, sliced
1/4 teaspoon crushed red pepper
1/2 cup grated Parmesan (2 ounces)
Directions
Cook the pasta according to the package directions. Reserve 1/2 cup of the pasta water, drain, and return the pasta to the pot.
Meanwhile, heat the oil in a large skillet over medium heat. Add the zucchini and 1/2 teaspoon salt. Cook, tossing often, until just tender, 4 to 5 minutes. Add the chickpeas, garlic, and red pepper and cook until heated through, 2 to 3 minutes.
Toss the pasta with the reserved pasta water and 1/4 cup of the Parmesan. Divide the pasta among bowls and top with the zucchini mixture and the remaining 1/4 cup of Parmesan.
Serves 4.
Nutritional information per serving: Calories 507, Fat 13g, Sat Fat 3g, Cholesterol 10mg, Sodium 697mg, Protein 21g, Carbohydrate 74g, Fiber 5g.
Information
Category

Pasta, Main Dishes

Cuisine

North American