Fast and Easy Recipe For Mexican Potato Omelet
Fast & Easy Dinner: Mexican Potato Omelet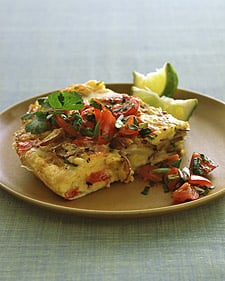 In the Summer, I have a no-fuss attitude towards preparing my meals. Since I am often on the go, I need something that will be both filling and easy. This recipe is a Mexican take on a Spanish-style tortilla, and can be eaten warm or room temperature if you want to pack it.
This omelet makes a great hearty and vegetarian meal that can be easily whipped up in under an hour. Made of potatoes, eggs, tomatoes, and pepper jack cheese, it's a fantastic option for any meal of the day. If you prefer to take the healthier route, simply substitute four large egg whites for two of the whole eggs. To get the recipe, read more.

Ingredients
2 tablespoons olive oil
1 red-skinned potato (6 ounces), well scrubbed, halved, and thinly sliced
3 garlic cloves, finely chopped
2 scallions, thinly sliced
Coarse salt and ground pepper
8 large eggs
1 1/4 cups plum tomatoes, coarsely chopped (about 2 tomatoes)
1/2 cup shredded pepper jack cheese (2 ounces)
2 tablespoons chopped cilantro
1/2 teaspoon fresh lime juice
Directions
Heat 1 tablespoon oil in a 10-inch broiler-proof skillet over medium-low heat. Add potato, cover, and cook, stirring occasionally, until golden brown and tender, about 10 minutes. Stir in garlic and all but 1 tablespoon of the scallions; season with salt and pepper and cook 1 minute.
In a large bowl, beat eggs until well combined. Add 1/4 cup each tomato and cheese; stir to combine. Add remaining oil to pan, and pour egg mixture over the potatoes.
Preheat broiler with rack 4 inches from the heat. Meanwhile, cook eggs on the stovetop, lifting the edges to allow uncooked egg to flow underneath, until the center is almost set, 8 to 10 minutes. Sprinkle remaining 1/4 cup cheese over the top, then broil in the oven until set, about 2 minutes.
In a small bowl, make a salsa by combining the remaining tomatoes, scallions, cilantro, and lime juice. Run a metal spatula around the edges of the pan and slide the omelette onto a platter. Serve cut into wedges with salsa.
Serves 2 to 4.
Information
Category

Main Dishes, Eggs

Cuisine

Mexican