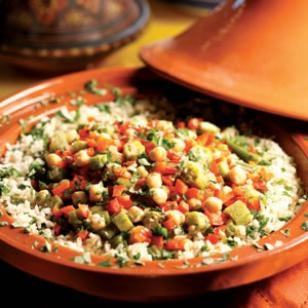 Southern vegetable staple okra is everywhere this time of year at Bay Area farmers markets, and it's perfect in everything from Summer skillet stir-fries to soothing, slow-cooked tagines like this one.
The key to this tender vegetable braise is lots of patience and a fiery, full-bodied garlic and pepper paste known as harissa. Use it to add layers of savory complexity to this slow-cooked vegetable stew. For the recipe, keep reading.


Ingredients
1 pound fresh or frozen okra, stems trimmed, cut into 1/2-inch pieces
10 sprigs fresh cilantro, plus more for garnish
2 tablespoons extra-virgin olive oil
1 red bell pepper, finely diced
1 medium onion, finely diced
3 cloves garlic, minced
1/2 teaspoon ground ginger
1/2 teaspoon freshly ground pepper
3 plum tomatoes, diced, or 1 cup drained canned diced tomatoes
1/2 cup vegetable broth
3/4 teaspoon ground cumin
1 15-ounce can chickpeas, rinsed
3/4 teaspoon salt
1 teaspoon harissa or hot sauce, to taste
Directions
Place a large bowl of ice water next to the stove. Bring a large saucepan of water to a boil. Add okra and cook for 2 minutes. Transfer the okra with a slotted spoon to the ice water. Drain.
Tie cilantro sprigs together with kitchen string.
Heat oil in a large saucepan over medium-high heat. Add bell pepper. Cook, stirring, until soft, 2 to 5 minutes. Transfer to a bowl with a slotted spoon.
Add onion, garlic, ginger and pepper to the pan. Cook, stirring, until the onion is soft, 3 to 6 minutes. Mix in tomatoes, broth, cumin, the okra, cilantro sprigs and half the bell pepper. Reduce heat to medium; partially cover. Cook, stirring occasionally, until the okra is soft, 10 to 15 minutes.
Stir in chickpeas and salt; cook for 4 minutes. Remove from the heat; discard the cilantro sprigs. Stir in harissa. Serve sprinkled with the remaining bell pepper and cilantro leaves.
Serves 6.

Nutritional information per serving: 136 calories; 6 g fat (1 g sat, 4 g mono); 0 mg cholesterol; 20 g carbohydrates; 0 g added sugars; 5 g protein; 7 g fiber; 443 mg sodium; 389 mg potassium.
Information
Category

Main Dishes, Beans

Cuisine

African