Fast and Easy Recipe For Pappardelle With Roasted Squash
Monday's Leftovers: Pappardelle With Roasted Squash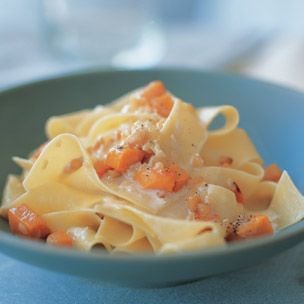 If you found yourself with leftover squash from last night's sumptuous meal, put it to good use in an easy weeknight pasta. Take a nod from a seasonal favorite — butternut squash ravioli — and serve up the same earthy flavors of sage, nuts, and browned butter with fresh store-bought or homemade pappardelle pasta. In contrast to its dried counterpart, it cooks up in only a couple of minutes. Want the recipe? Then keep reading.


Ingredients
1 lb. butternut or calabaza squash, peeled, seeded and cut into small cubes
Salt, to taste, plus 2 Tbs.
Freshly ground pepper, to taste
7 Tbs. unsalted butter, at room temperature
1 Tbs. olive oil
8 large fresh sage leaves
1/3 cup pine nuts, lightly toasted and coarsely chopped
1/2 cup heavy cream
1 lb. wide egg noodles or pappardelle
Directions
Roast the squash:
Preheat an oven to 450°F. Lightly oil a baking sheet. Arrange the squash cubes on the sheet in a single layer and season lightly with salt and pepper. Roast until golden brown and tender, 15 to 25 minutes. Set aside.
Make the sauce: Meanwhile, bring a large pot of water to a boil over high heat. In a large fry pan over medium-low heat, melt the butter with the olive oil. Add the sage leaves and sauté until fragrant, about 4 minutes. Add the pine nuts and cream, stir to combine and remove from the heat. Remove the sage leaves and discard. Season with salt and pepper.
Cook the pasta: Add the 2 Tbs. salt and the pasta to the boiling water. Cook, stirring occasionally to prevent sticking, until al dente, according to the package instructions. Drain, reserving about 1/2 cup of the cooking water. Add the pasta to the sauce. Add the roasted squash and stir to combine. Add as much of the reserved cooking water as needed to loosen the sauce and serve.
Serves 4.
Information
Category

Pasta, Main Dishes

Cuisine

Italian