Fast and Easy Recipe For Persian Zucchini Frittata or Kuku Kadoo
Fast & Easy Dinner: Persian Zucchini Frittata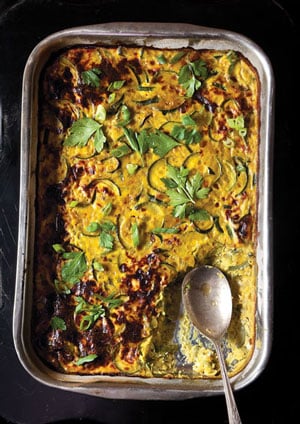 Even if "kuku kadoo" — the traditional name for this dish — doesn't ring a bell, surely we're all familiar with the concept of a fabulously fast and easy frittata. In this Persian version, eggs combine with sauteed zucchini, onions, garlic, and ginger for a casserole that's simple to bake but exotic to taste.
Most of the spices are probably already in your pantry, and since this dish serves six to eight, you'll probably have enough leftovers to enjoy the frittata for dinner again this week. Serve aside rice and create a hearty meal, or two, when you read more.


Persian Zucchini Frittata
From Saveur
Ingredients
3 tbsp. canola oil
1⁄4 tsp. minced fresh ginger
3 large onions, chopped
3 cloves garlic, minced
1 tsp. ground turmeric
5 medium zucchini, halved lengthwise and cut crosswise into 1⁄4"-thick slices
Kosher salt and freshly ground black pepper, to taste
4 tbsp. flour
1⁄2 tsp. baking soda
7 eggs, beaten
2 tbsp. chopped parsley
Sumac, for garnish
Directions
Heat oven to 400°. Heat 2 tbsp. oil in a 12" skillet over medium-high heat. Add ginger, onions, and garlic; cook until soft, 6–8 minutes. Add turmeric and zucchini; season with salt and pepper; cook until tender, 12–15 minutes. Stir in 3 tbsp. flour and baking soda; let cool.
Stir eggs into zucchini mixture. Grease a 9" x 13" casserole with remaining oil; sprinkle with remaining flour; pour in mixture. Bake until set, 25–30 minutes. Garnish with parsley and sumac.
Serves 6-8.
Information
Category

Main Dishes, Eggs

Cuisine

Mediterranean/Middle Eastern