Fast & Easy Recipe For Roast Chicken With Asparagus and Tahini Sauce
Sunday Dinner: Chicken With Asparagus and Tahini Sauce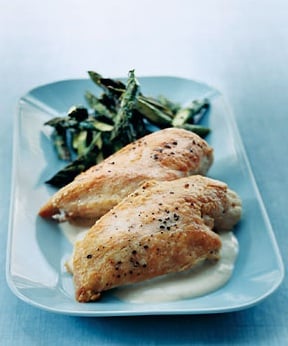 Breathe life into an old favorite, chicken breast, by quick-roasting it, then ladling a puréed sauce of tahini, lemon juice, and garlic over the top. The Mediterranean sesame paste not only adds body and weight to a quick sauce, but also a nutty, creamy flavor.
Hit two birds with one stone — no pun intended — by cooking some sweet Spring asparagus in the oven along with the chicken. Serve it alongside pasta, potatoes, or brown rice. To have dinner ready in no time, read more.


Roast Chicken With Asparagus and Tahini Sauce
From Gourmet
Ingredients
2 lb asparagus, cut into 2-inch pieces
3 tablespoons olive oil
1-1/4 teaspoons salt
1/2 teaspoon black pepper
4 skinless boneless chicken breast halves (3 to 4 lb total)
1/3 cup well-stirred tahini (Middle Eastern sesame paste)
1/3 cup water
2 tablespoons fresh lemon juice
1 teaspoon sugar
1 garlic clove, minced
Directions
Put oven racks in middle and lower thirds of oven and preheat oven to 450°F.
Toss asparagus with 1 tablespoon oil, 1/4 teaspoon salt, and 1/4 teaspoon pepper in a 15- by 10-inch shallow baking pan. Roast on bottom rack, shaking pan once or twice, until just tender, about 10 minutes.
Meanwhile, pat chicken dry and sprinkle all over with 1/2 teaspoon salt and remaining 1/4 teaspoon pepper. Heat remaining 2 tablespoons oil in a 12-inch heavy ovenproof skillet (not nonstick) over moderately high heat until hot but not smoking, then brown chicken, turning over once, until golden, about 6 minutes total. Transfer skillet to middle of oven and roast until just cooked through, about 5 minutes.
While chicken roasts, purée tahini, water, lemon juice, sugar, garlic, and remaining 1/2 teaspoon salt in a blender until smooth, about 1 minute. (Add more water if sauce is too thick.)
Serve chicken and asparagus drizzled with some of sauce and with remaining sauce on the side.
Makes 4 servings.
Information
Category

Poultry, Main Dishes

Cuisine

North American