Fast and Easy Recipe For Roasted Chicken Tenders With Peppers and Onions
Monday's Leftovers: Chicken Tenders With Peppers and Onions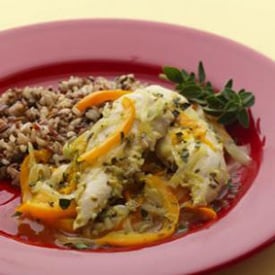 At the start of the week, don't consume yourself with preparing an elaborate meal. Rather, take advantage of proteins that'll translate well from Sunday to Monday, like chicken tenders. Not only are these tender cuts of chicken breast healthy, but they're also extremely quick-cooking, which makes them ideal for a speedy dinner bake with a medley of vegetables like red, yellow, and orange bell peppers, onions, and fresh herbs. A sprinkling of pickled jalapeños provides an addictive, lingering kick. For a wholesome yet flavorful dinner solution, read more.
Roasted Chicken Tenders With Peppers & Onions
From Eating Well
Ingredients
1/2 teaspoon freshly grated lemon zest
3 tablespoons lemon juice
2 tablespoons finely chopped garlic
2 tablespoons finely chopped fresh oregano, or 1 teaspoon dried
2 tablespoons finely chopped pickled jalapeño peppers
2 tablespoons extra-virgin olive oil
1/2 teaspoon salt
1 pound chicken tenders
1 red, yellow or orange bell pepper, seeded and thinly sliced
1/2 medium onion, thinly sliced
Directions
Preheat oven to 425 degrees F. Whisk lemon zest, lemon juice, garlic, oregano, jalapeños, oil and salt in a 9-by-13-inch glass baking dish. Add tenders, bell pepper and onion; toss to coat. Spread the mixture out evenly; cover with foil. Bake until the chicken is cooked through and no longer pink in the middle, 25 to 30 minutes.
Serves 4.
Nutritional information per serving: 172 calories; 7 g fat (1 g sat, 5 g mono); 49 mg cholesterol; 6 g carbohydrates; 0 g added sugars; 19 g protein; 1 g fiber; 518 mg sodium; 122 mg potassium.
Information
Category

Poultry, Main Dishes

Cuisine

North American