Fast & Easy Recipe for Roasted Greek Chicken & Vegetables
Monday's Leftovers: Roasted Greek Chicken and Vegetables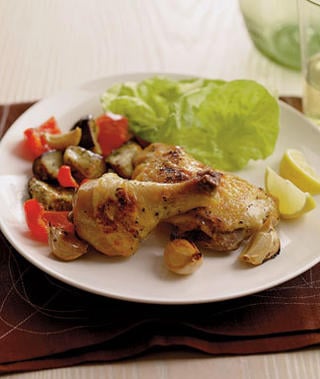 Workweek off to a harried start? The best remedy is a rustic supper that'll remind you to slow down. Tonight, keep it simple with a Greek chicken dish that makes use of leftover chicken and calls for a short list of easy-to-obtain ingredients.
Roast chicken and vegetables with seasonings, aromatics, and oil, and you've got a meal to savor only 45 minutes later. For an added touch, serve with a bowl of avgolemono. See the recipe, after the jump.


Ingredients
1 cut-up whole chicken (about 4 lb), breasts cut in half if large
1 medium eggplant (1 lb), cut in 1 1/2-in. chunks
1 bell pepper, cut in 1 1/2-in pieces
2 unpeeled whole cloves garlic
2 tsp oil
Zest and juice of 1 lemon
1 tsp each salt, pepper and dried oregano
Directions
Heat oven to 450°F. Line 2 rimmed baking sheets with nonstick foil.
Put chicken on one side of each pan; put vegetables on the other side. Drizzle vegetables with oil. Sprinkle chicken and vegetables with lemon zest and juice, and the salt, pepper and oregano; toss to coat.
Roast side by side on middle oven rack, turning chicken and vegetables once, 25 to 30 minutes until chicken is cooked through and vegetables are tender.
Serves 5.

Nutritional information per serving: Calories 428, Fat 26g, Saturated Fat 7g, Cholesterol 111 mg, Sodium 579 mg, Total Carbohydrate 13g, Dietary Fiber 3g, Protein 35g
Information
Category

Poultry, Main Dishes

Cuisine

Greek