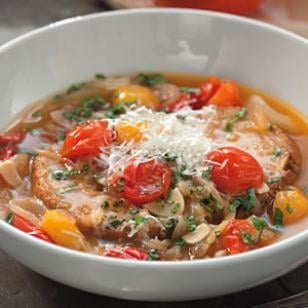 There are many ways to be shopper-savvy at Summer farmers markets, like not going overboard with the amount of produce you buy. But even I have been known to overcommit and wind up knee-deep in a pile of ripening tomatoes.
Next time that happens, I know what I'll be whipping up: a batch of this healthy, yet hearty vegetable soup. It's loaded with ripe tomatoes, then topped with shredded parmesan and toasted country bread. Make the most of your tomato bounty when you read more.


Ingredients
4 cups thinly sliced onions
2 tablespoons extra-virgin olive oil
1/4 teaspoon salt
1/4 teaspoon freshly ground pepper
4 cups cherry tomatoes, halved
1/2 cup thinly sliced garlic, plus 1 whole clove, peeled and halved
3 cups reduced-sodium chicken broth or vegetable broth
6 slices whole-grain country bread
2/3 cup chopped fresh basil
6 tablespoons finely shredded Parmesan cheese
Directions
Preheat oven to 450°F.
Toss onions, oil, salt and pepper in a 9-by-13-inch pan. Roast the onions, stirring once or twice, until starting to brown, about 20 minutes.
Stir in tomatoes and 1/2 cup garlic and continue roasting, stirring once, until the tomatoes are falling apart and beginning to brown in spots, about 20 minutes more.
Transfer the onion-tomato mixture to a large saucepan. Add broth. Bring to a simmer over medium-high heat. Remove from the heat and cover to keep warm.
Meanwhile, place bread on a large baking sheet and bake until toasted, about 10 minutes. Rub both sides of the toasted bread with the halved garlic clove. (Discard remaining garlic.)
To serve, place a piece of toasted bread in a shallow soup bowl. Ladle about 1 cup soup over the bread. Sprinkle with basil and cheese and serve immediately.
Makes 6 servings of 1 cup each.

Per serving: 213 calories; 8 g fat (2 g sat, 4 g mono); 4 mg cholesterol; 27 g carbohydrates; 2 g added sugars; 10 g protein; 5 g fiber; 594 mg sodium; 564 mg potassium.
Information
Category

Other, Soups/Stews

Cuisine

North American