Fast and Easy Recipe For Scallops With Cauliflower, Cherries, and Capers
Sunday Dinner: Scallops With Cauliflower, Cherries, and Capers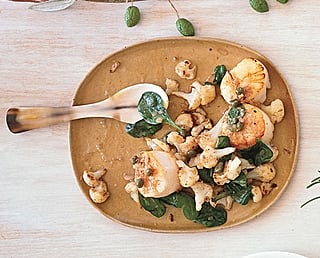 After a weekend of too much ham and lamb, pass on the meat and opt for some succulent shellfish. Scallops are truly a cinch to make — especially if you follow a few easy guidelines.
This Mediterranean feast, with its cauliflower, capers, spinach, and dried cherries, may sound like an unusual combination, but the result is an irresistible explosion of tart, sweet, salty, and sour flavors all at once. For the recipe, read more.
Scallops With Cauliflower, Cherries, and Capers
From Bon Appétit
Ingredients
5 cups small cauliflower florets (from 1 large head)
3 tablespoons olive oil, divided
1 9-ounce package fresh spinach leaves
1 large shallot, finely chopped, divided
1/4 teaspoon ground cinnamon
6 large sea scallops, side muscle removed
6 tablespoons (3/4 stick) butter
6 large sage leaves, sliced thinly
3 tablespoons dried tart cherries
2 tablespoons drained capers
Directions
Cook cauliflower florets in large pot of boiling salted water until tender, about 6 minutes. Drain and transfer cauliflower to bowl. Heat 1 tablespoon oil in same pot over medium-high heat. Add spinach and toss until just wilted but still bright green, about 3 minutes. Transfer spinach to sieve set over large bowl and drain well. Reserve pot.
Heat 1 tablespoon oil in reserved pot. Add half of shallot; saute 1 minute. Sprinkle cauliflower with cinnamon, salt, and pepper. Add to pot and toss to coat. Add spinach and toss until heated through, about 3 minutes. Divide vegetables among 6 plates.
Meanwhile, heat remaining 1 tablespoon oil in medium skillet over high heat. Sprinkle scallops with salt and pepper. Add to skillet; sear until just opaque in center, about 2 minutes per side. Place 1 scallop on each plate. Melt butter in same skillet. Add half of shallot and last 3 ingredients. Cook until butter starts to brown, about 4 minutes. Spoon over scallops and serve.
Serves 6.
Information
Category

Main Dishes, Shellfish

Cuisine

Mediterranean/Middle Eastern