Fast and Easy Recipe For Sirloin Veggie Stir-Fry
Monday's Leftovers: Sirloin Veggie Stir-Fry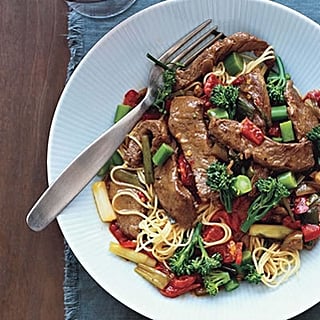 My mom once told me that the fastest way to get dinner on the table is to make a stir-fry. Now that I've been graced with a hectic schedule myself, I've come to realize she's right.
Start off the beginning of the week with a stir-fry that makes use of the weekend's sirloin steak, and relies on evergreen pantry essentials such as sun-dried tomatoes, scallions, and hot peppers for zest. In lieu of the usual steamed rice, opt for ultrathin, quick-cooking angel hair noodles.
Want a well-rounded meal that comes together in less than 30 minutes? Then get the recipe.
Ingredients
1-1/2 pounds trimmed, boneless beef sirloin, sliced 1/4 inch thick
3 tablespoons soy sauce
1 bunch broccoli rabe, florets separated and long stems cut into 1/2-inch pieces
1/2 cup sun-dried tomatoes packed in oil and garlic, halved, plus 3 tablespoons of their oil
2 large cloves garlic, chopped
2 bunches scallions, cut into 1-inch lengths
1 to 2 pickled cherry peppers or other hot peppers, chopped
1/2 pound angel hair pasta
1 cup beef broth
1 tablespoon cornstarch
Directions
In a bowl, combine the sirloin and 1 1/2 tablespoons soy sauce; set aside.
In a wok or large skillet, bring enough water to reach a depth of 2 inches to a boil. Add the broccoli rabe, lower the heat and simmer for 3 minutes. Drain in a colander and rinse well with cold water; set aside.
Return the wok to high heat, add 2 tablespoons sun-dried-tomato oil and the garlic and stir-fry for 1 minute. Add the sirloin and stir-fry for 2 minutes. Transfer the meat and its juices to a bowl. Add the remaining 1 tablespoon sun-dried tomato oil to the wok, then the scallions, peppers and sun-dried tomatoes; stir-fry for 1 minute.
In a large pot of boiling, salted water, cook the pasta until al dente, about 3 minutes. In a small bowl, stir together the beef broth, cornstarch and remaining 1 1/2 tablespoons soy sauce. Add the mixture to the wok, stirring until thickened, about 1 minute. Return the meat, its juices and the broccoli rabe to the wok; cook until heated through.
Divide the pasta among 4 plates; top with the steak and vegetables.
Serves 4.
Information
Category

Main Dishes, Beef

Cuisine

Other Asian