Fast and Easy Recipe for Skirt Steak and Bok Choy Stir-Fry
Monday's Leftovers: Steak and Bok Choy Stir-Fry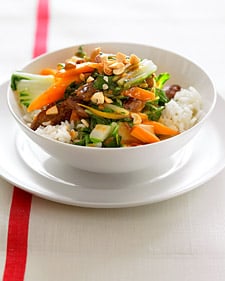 It can be hard to find a weeknight meal that's exciting enough to be worth repeating. But when luck runs out, turn to the rice bowl It's quick, healthy, cheap, and easy.
This skirt steak and bok choy version is no exception; the stir-fry is coated with an Asian sauce that manages to be tangy, sweet, and nutty all at once.
Best of all, it makes use of leftover skirt steak, comes together in minutes, and doesn't have half the grease of your typical Chinese takeout. To make the dish tonight, keep on reading.


Ingredients
2 tablespoons soy sauce
2 tablespoons rice vinegar
1 tablespoon peanut butter
1 tablespoon honey
2 garlic cloves, minced
Coarse salt and ground pepper
1 pound skirt steak, thinly sliced crosswise
1 tablespoon cornstarch
1 teaspoon vegetable oil
1 large head bok choy, cut 1 inch thick crosswise
4 medium carrots, halved lengthwise, thinly sliced on bias
Cooked rice, for serving
1/4 cup peanuts, chopped
Directions
In a small bowl, mix soy sauce, vinegar, peanut butter, honey, and garlic; season with pepper.
In a bowl, toss steak with cornstarch; season with salt and pepper. In a large nonstick skillet with a lid, heat oil over medium-high. Add 1/2 of steak; cook, tossing, until browned, 1 to 2 minutes. Transfer to a plate; repeat with remaining steak.
To skillet, add soy mixture, bok choy, and carrots. Cover and cook, tossing occasionally until tender, about 5 minutes. Return steak to skillet; cook until heated through, about 5 minutes. Serve over rice; sprinkle with peanuts.
Serves 4.
Information
Category

Main Dishes, Beef

Cuisine

Other Asian