Fast and Easy Recipe For Spicy Butter Steamed Bass
Monday's Leftovers: Spicy Butter-Steamed Bass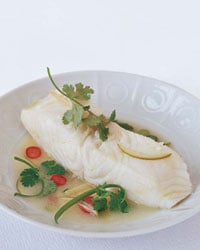 A helter-skelter Monday doesn't have to equal a chaotic late night meal. One surefire way to save time is to use leftovers from yesterday to save yourself the hassle of shopping and prep.
Instead of grilling sea bass, opt for a steaming technique that poaches the fish, yielding a melt-in-your-mouth consistency. A pat of butter, serrano pepper, and ginger infuse the dish with fragrance, flavor, and richness. For the recipe — which doesn't even require a steamer! — keep on reading.


Ingredients
Four 7-ounce sea bass or red snapper fillets with skin
One 1 1/2-inch piece of fresh ginger, peeled and cut into very thin matchsticks
1 serrano chile, thinly sliced
1 small garlic clove, minced
Finely grated zest and juice of 1 lime
Salt and freshly ground pepper
4 tablespoons unsalted butter, cut into small pieces
Chopped cilantro leaves and sliced scallion, for garnish
Directions
With a knife, make 4 shallow slashes in the skin of each fish fillet and place them in a large glass or ceramic pie plate, skin side up. In a small bowl, combine the ginger, chile, garlic, and lime zest and sprinkle the mixture over the fish. Season with salt and pepper and dot with the butter. Drizzle the lime juice on top.
Make a steamer by arranging 3 small balls of aluminum foil in a very large, deep skillet. Add 1 inch of water to the skillet and bring to a boil. Carefully set the pie plate on the foil balls, cover the skillet with a tight fitting lid or aluminum foil and steam for 5 minutes, or until the fish flakes with a fork. Using a spatula, transfer the fillets to shallow bowls and spoon the buttery broth on top. Garnish with the cilantro and scallion and serve.
Serves 4.
Information
Category

Main Dishes, Fish

Cuisine

Other Asian