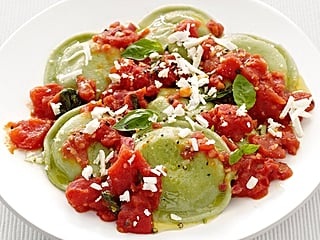 After discovering a ridiculous inventory of grains, pastas, and sauces while cleaning out my pantry, I've decided to focus on cooking whatever's already on hand at home.
Tonight, I plan to use leftover canned Italian plum tomatoes, chopped salami, and spinach ravioli to create a straightforward Italian dinner.
Hoping to make it a meatless Monday? Then simply omit the cured meat. Either way, with a chunky, bright sauce and just-grated cheese, the result will taste just as good as any restaurant special. Get the recipe now.
Spinach Ravioli with Tomato Sauce
Ingredients
2 tablespoons extra-virgin olive oil
1 ounce Italian salami, finely diced, or pulsed in a food processor
4 cloves garlic, minced
1 28-ounce can San Marzano plum tomatoes, drained, juices reserved
5 or 6 fresh basil leaves, plus more for garnish
Pinch of sugar
Kosher salt and freshly ground pepper
1 1/2 pounds frozen spinach-and-cheese ravioli
1 ounce ricotta salata or parmesan cheese, grated
Directions
Bring a large pot of water to a boil. Meanwhile, heat the olive oil in a large skillet over medium-high heat. Add the salami and garlic and cook, about 1 minute. Crush the tomatoes into the pan with your hands and cook until slightly dry, about 5 minutes. Add the reserved tomato juice, basil, sugar, and salt and pepper to taste. Increase the heat to high and cook until the sauce thickens, about 5 minutes. Stir in 3/4 cup water and reduce the heat to medium-low. Let simmer while you cook the ravioli.
Add salt to the boiling water, then add the ravioli and cook as the label directs; drain. Divide the ravioli among shallow bowls, spoon the sauce on top and sprinkle with the cheese. Garnish with more basil.
Serves 4.

Nutritional information per serving: Calories 482; Fat 20 g (Saturated 7 g); Cholesterol 60 mg; Sodium 1,007 mg; Carbohydrate 54 g; Fiber 7 g; Protein 25 g
Information
Category

Pasta, Main Dishes

Cuisine

Italian