Fast and Easy Recipe for Spinach-Stuffed Steak
Monday's Leftovers: Spinach-Stuffed Steak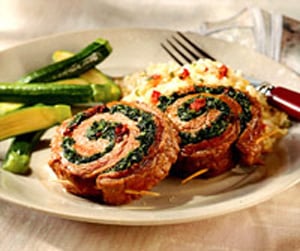 For a speedy and affordable Monday night meal, turn to inexpensive (and leftover) flank steak for inspiration. Get creative by employing favorites from your pantry and freezer, like sun-dried tomatoes and chopped frozen spinach, to transform a simple steak into an exciting new weeknight dinner. Make an elegant steak roulade in under half an hour when you keep reading.


Ingredients
1/4 cup dried tomatoes (not oil packed)
1 1-pound beef flank steak or top round steak, trimmed of separable fat
1/8 teaspoon salt
1/8 teaspoon pepper
1 10-ounce package frozen chopped spinach, thawed and well drained
2 tablespoons grated Parmesan cheese
2 tablespoons snipped fresh basil
Directions
In a small bowl soak dried tomatoes in enough hot water to cover for 10 minutes. Drain. Snip into small pieces.
Meanwhile, score meat by making shallow diagonal cuts at 1-inch intervals in a diamond pattern on both sides. Place meat between 2 pieces of plastic wrap. Working from center to edges, pound with flat side of a meat mallet into 12x8-inch rectangle. Remove plastic wrap. Sprinkle meat with the salt and pepper.
Spread the spinach over the steak. Sprinkle with the softened tomatoes, Parmesan cheese, and basil. Roll the steak up from a short side. Secure with wooden toothpicks at 1-inch intervals, starting 1/2 inch from 1 end. Cut between the toothpicks into eight 1-inch-thick slices.
Place slices, cut sides down, on the unheated rack of a broiler pan. Broil 3 to 4 inches from the heat to desired doneness, turning once. [Allow or 12 to 16 minutes for medium (160 degrees F).] Before serving, remove the toothpicks.
Makes 4 servings.

Nutritional information per serving: Calories 213, Total fat 9g, Saturated fat 4g, Cholesterol 47mg, Sodium 303mg, Carbohydrate 5g, Fiber 3g, Protein 28g
Information
Category

Main Dishes, Beef

Cuisine

North American