Fast & Easy Recipe for Striped Bass With Olive-Almond Relish
Monday's Leftovers: Striped Bass With Olive-Almond Relish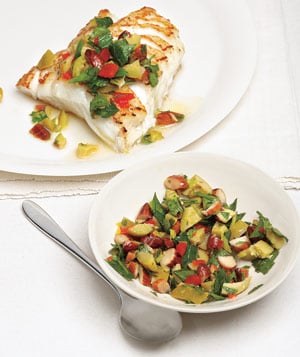 When there's not a lot of time to prepare a healthy, home-cooked meal, fish is my go-to dinner dish. Why? Because on top of being high in protein and low in saturated fat, its fillets also cook quickly and evenly.
Tonight, I'll be making the most of leftover striped bass fillets by pan-sautéing them, then serving a Mediterranean olive-almond relish alongside the table. The result is a wholesome supper that's ready in under 30. For the simple recipe, keep on reading.


Ingredients
1 cup fresh flat-leaf parsley leaves
1/2 cup large pimiento-stuffed olives (about 12)
1/4 cup unsalted roasted almonds
3 tablespoons fresh lemon juice
1 teaspoon finely grated lemon zest
2 tablespoons plus 1 teaspoon olive oil
4 6-ounce pieces striped bass, cod, or halibut fillet
Kosher salt and black pepper
Directions
In a food processor fitted with the metal blade, place the parsley, olives, almonds, lemon juice and zest, and 2 tablespoons of the oil. Pulse until the mixture is coarsely chopped, 3 to 4 times.
Heat the remaining teaspoon of oil in a large nonstick skillet over medium-high heat. Season the fish with ¼ teaspoon each salt and pepper and cook until golden brown and opaque throughout, 3 to 4 minutes per side. Serve with the olive relish.
Serves 4.

Nutritional information per serving: Calories 321, Fat 19g, Saturated Fat 2g, Cholesterol 140mg, Protein 33g, Carbohydrate 5g, Sugar 1g, Fiber 2g, Iron 3mg, Calcium 71mg.
Information
Category

Main Dishes, Fish

Cuisine

Mediterranean/Middle Eastern