Fast and Easy Recipe For Tofu Kebabs With Cilantro Sauce
Fast & Easy Dinner: Tofu Kebabs With Cilantro Sauce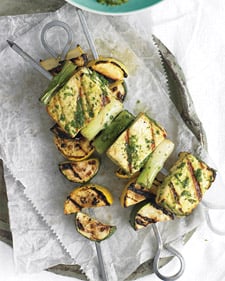 When I think of grilling, my first thought is always red meat, which I've flame-broiled a lot of lately. But the barbie isn't just limited to grilled meats and vegetables; it's also an outstanding way to enhance the flavor of soy products such as tofu.
The key to a making a dish such as this one successful starts with using the right ingredients. Select the firmest tofu you can find; soft or silken varieties will slip through the grates. That, and don't skimp on the sauce: glaze the skewers generously, and more flavor will make its way to your plate. Serve it with lightly skillet-fried brown rice for a complete and healthy meal. For the recipe, read on.

Ingredients
2 cups fresh cilantro leaves
1/4 cup plus 1 tablespoon vegetable oil, plus more for grates
1/2 jalapeno chile, seeded
1 teaspoon grated fresh ginger
2 tablespoons fresh lime juice
3 scallions, white and green parts separated and cut into 1-inch lengths
Coarse salt and ground pepper
1 package (14 ounces) extra-firm tofu, weighted and cut into 12 pieces
2 summer squash, halved and cut into 1-inch pieces
Directions
Heat grill to medium. In a food processor, combine cilantro, 1/4 cup oil, jalapeno, ginger, lime juice, and scallion greens. Blend until smooth; season with salt and pepper. Combine tofu, scallion whites, and 1 tablespoon oil; season with salt and pepper. Thread tofu and scallion whites onto four skewers, then thread squash onto four skewers.
Clean and lightly oil hot grates. Grill squash kebabs, covered, until tender, 11 to 13 minutes, turning occasionally. Grill tofu kebabs until scallions are soft, 4 to 6 minutes, turning occasionally; brush with cup cilantro sauce and grill 30 seconds more. Serve kebabs with remaining cilantro sauce.
Serves 4.
Information
Category

Main Dishes, Tofu

Cuisine

North American