Fast and Easy Recipe For Tuna Steaks With Broccoli and Couscous
Monday's Leftovers: Tuna Steaks With Broccoli and Couscous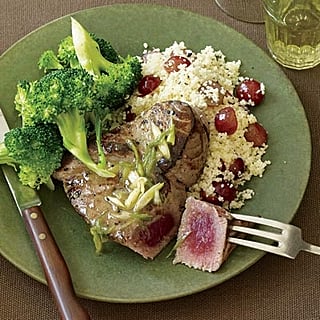 Broccoli stir-fry over rice is a staple around my house, but I'll admit I'm quickly tiring of it. Tonight, I've decided to switch it up a little. Once again, I'm using tuna from yesterday's meal as the star, serving it up steak-style with a mustard pan sauce to pump up the flavor. The fish'll pair perfectly with lightly seasoned, blanched broccoli and a bed of couscous with grapes.
For an easy weeknight meal that's different yet familiar at the same time, keep on reading.

Tuna Steaks With Broccoli and Couscous
Ingredients
2 tablespoons lemon juice
1 cup couscous
1 cup red grapes, halved
Salt and pepper
1 head broccoli, broken into florets
2 tablespoons extra-virgin olive oil
Four 1-inch-thick skinless tuna steaks (about 1 1/4 pounds)
1 cup chicken broth
1 tablespoon spicy brown mustard
1 bunch scallions, thinly sliced
Directions
In a saucepan, bring 2 cups water and the lemon juice to a boil. Stir in the couscous, then cover and let stand for 15 minutes. Toss with the grapes; season with salt and pepper.
Bring a pot of salted water to a boil. Add the broccoli and cook for 3 minutes; drain. Toss with 1 tablespoon olive oil, salt and pepper.
In a large skillet, heat the remaining 1 tablespoon olive oil over medium-high heat. Season the tuna with salt and pepper and cook, turning once, until browned, about 8 minutes; transfer to a plate.
Add the chicken broth to the skillet and cook, scraping up any browned bits, until thickened, about 3 minutes. Whisk in the mustard, season with salt and pepper and cook for 2 minutes more; stir in the scallions. Spoon over the tuna and serve with the broccoli and couscous.
Serves 4.
Information
Category

Main Dishes, Fish

Cuisine

North American