Fast & Easy Recipe For Veal Paillards With Mushroom Sauce
Monday's Leftovers: Veal With Mushroom Sherry Sauce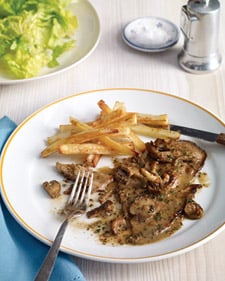 Follow up on last night's classic veal number by making an equally sumptuous Italian specialty. Use leftover steaks, pounded thin, to make a variation of the renowned dish known as veal marsala. Rather than following a traditional recipe, which calls for marsala wine, flour, and cream, try a lighter, more contemporary version with sherry. The fortified wine, when combined with mushrooms and a bit of mustard for emulsification, transforms into a fragrant, boozy sauce that coats the tender meat. Don't care for veal? Try using chicken scaloppine instead. For the recipe, keep reading.


Veal Paillards With Mushroom Sherry Sauce
Ingredients
4 veal paillards
Salt and pepper
1 tablespoon extra-virgin olive oil
1 tablespoon plus 3 more tablespoons unsalted butter
cups sliced mushrooms
2 tablespoons minced shallot
3 tablespoons medium-dry sherry (such as amontillado)
2 tablespoons Grainy mustard
3/4 cup low-sodium chicken stock
1 tablespoon finely chopped fresh chives
Directions
Season paillards on both sides with salt and pepper. Heat extra-virgin olive oil and 1 tablespoon unsalted butter in a large skillet over medium-high heat until butter foams. Add 2 paillards, and saute on 1 side until golden brown, about 2 minutes. Flip, and saute paillards until cooked through, about 30 seconds. Transfer to a plate. Repeat with remaining paillards.
Add sliced mushrooms, minced shallot, and 1 tablespoon unsalted butter to skillet, and cook over medium heat, stirring often, until mushrooms are golden, about 2 minutes. Add medium-dry sherry and grainy mustard, and deglaze the pan, scraping brown bits from bottom with a wooden spoon. Add chicken stock and any plate juices. Simmer until sauce reduces by half, about 3 minutes. Gradually stir in 2 tablespoons cold unsalted butter (cut into small pieces) until just melted, and sprinkle with fresh chives. Season to taste.
Serves 4.
Information
Category

Other, Main Dishes

Cuisine

Italian