Fast and Easy Recipe For Veal Piccata
Sunday Dinner: Veal Piccata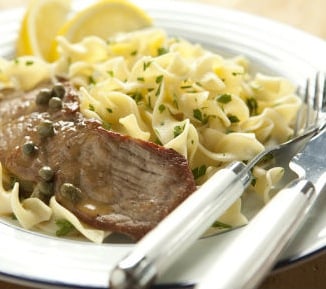 Now that I know where to find humanely-raised veal, I'm going to start experimenting with this meat more in the kitchen. Tonight, I'm whipping up an Italian classic, veal piccata.
It starts with flattened meat that's flashed in the pan, then served with a sauce made from butter, capers, lemon, and pan drippings. If you're not a fan of veal, you can substitute another type of protein, such as turkey paillards or thinly pounded pork tenderloin.
Serve the piccata over a bed of steamed egg noodles, and a crisp white wine on the side. For a gourmet Italian dinner in minutes, read on.
Ingredients
6 ounces egg noodles
1 tablespoon + 1 teaspoon butter, divided
2 tablespoons chopped parsley, divided
1 tablespoon extra virgin olive oil
2 boneless top round veal scaloppine (about 1/3 pound total)
Salt & ground black pepper to taste
2/3 cup low-sodium chicken broth
1 tablespoon capers, drained
2 lemon wedges
Directions
Cook noodles. Toss with 1 teaspoon butter and 1 tablespoon parsley, divide between 2 plates and keep warm.
Heat oil in a large skillet over medium-high heat. Season veal with salt and pepper and cook, flipping once, until golden brown and just cooked through, 4 to 5 minutes total; remove from pan, place atop noodles and keep warm. Return skillet to heat, add broth and simmer until thickened, 4 to 5 minutes.
Whisk in remaining 1 tablespoon each butter and parsley, capers, salt and pepper; pour sauce over veal and noodles and serve with lemon wedges.
Serves 2.
Nutritional information per serving (about 13oz/369g-wt.): 500 calories (190 from fat), 21g total fat, 7g saturated fat, 135mg cholesterol, 520mg sodium, 53g total carbohydrate (3g dietary fiber, 1g sugar), 24g protein.
Information
Category

Other, Main Dishes

Cuisine

Italian