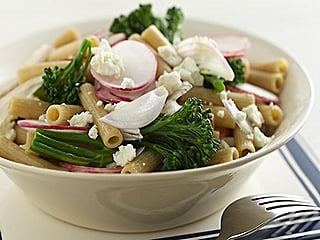 After enjoying a two-tomato vegetable soup the night before, extend your meatless meal streak tonight with an easy and light whole wheat rigatoni toss.
Use crunchy, nutrient-rich broccolini to impart a slightly nutty, peppery quality to a medley of whole wheat tubes and blanched radishes that get tossed in an orange zest vinaigrette.
The fiber in both the vegetables and the pasta ensures this'll be a filling dish to dig into; enjoy a beguiling, salty creaminess in every bite with crumbles of feta cheese as well. Don't have sherry vinegar, oranges, or broccolini on hand? This recipe is flexible: swap them out for red wine vinegar, lemon zest, and cauliflower or regular broccoli florets. Get the method when you read on.
Whole Wheat Pasta With Broccolini and Feta
From Food Network
Ingredients
1 medium shallot, thinly sliced
1 bunch broccolini (about 10 ounces), stems cut into 2-inch stems, and florets
1 medium bunch radishes, trimmed and very thinly sliced
12 ounces whole-wheat rigatoni
1 tablespoon sherry wine vinegar
1/2 teaspoon finely grated orange zest
3/4 teaspoon kosher salt, plus more as needed
Freshly ground black pepper
3 tablespoons extra-virgin olive oil
7 ounces feta cheese, crumbled
Directions
Put the shallots in a bowl and cover with cold water. Soak for about 10 minutes; drain.
Bring a large pot of water to a boil and salt it generously. Fill a medium bowl with ice water and salt it as well. Add the broccolini to the boiling water and cook until crisp-tender, about 2 to 3 minutes. Stir in the radish slices, and cook 30 seconds, more. Use a slotted spoon or strainer to scoop out the vegetables and plunge them immediately into the ice water. Drain the vegetables, pat them very dry.
Add the pasta to the same pot of boiling water, and cook, stirring occasionally, until al dente, about 8 to 9 minutes. Drain and set aside.
Whisk the sherry vinegar, orange zest, the 3/4 teaspoon salt and pepper, to taste, in a large serving bowl. Gradually whisk in the oil, starting with a few drops and then adding the rest in a steady stream, to make a dressing.
Toss the rigatoni, broccolini, radish and shallot with the dressing. Add the feta cheese and toss lightly. Serve warm or room temperature.
Serves 4.
Information
Category

Pasta, Main Dishes