Fast, Easy, Vegetarian Recipe for Crispy Falafel
Fast & Easy Dinner: Crispy Falafel With Yogurt Dip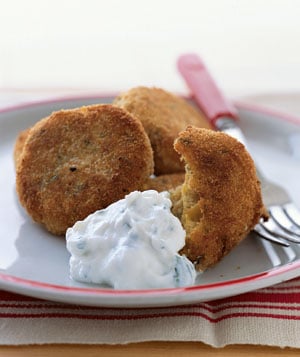 When it comes to meatless Middle Eastern takeout, falafel is a natural favorite. But did you know that chickpea fritters are just as easy — and probably healthier – to make in the comfort of your own home?
Begin by processing garbanzo beans with aromatics, herbs, and spices until smooth; then form them into balls, coat with batter, and pan-fry until coating is golden brown and you detect the toasted aroma of cumin.
Drain patties on paper towels, then serve with yogurt dip on top of pita, mixed greens, or just about anything else. Give falafel a home-cooked try when you read more.


Ingredients
2 15-ounce cans chickpeas, drained and rinsed well
1/4 cup fresh lemon juice
1 shallot or 1/2 small onion, finely diced
1/2 teaspoon ground cumin
1/2 teaspoon red pepper flakes
3 garlic cloves, minced
2 teaspoons kosher salt
3 tablespoons fresh parsley, chopped
1 1/2 cups bread crumbs
2 eggs, whisked
1 1/2 cups plain yogurt
1/8 teaspoon freshly ground pepper
1/4 cup canola oil
Directions
In a food processor or blender, process the chickpeas, lemon juice, and ¼ cup of water until almost smooth. Transfer to a large bowl.
Add the shallot, cumin, red pepper flakes, 2/3 of the garlic, 1 teaspoon salt, 2 tablespoons parsley, and ½ cup bread crumbs. Mix well. Roll into 16 2-inch-diameter balls and flatten slightly to form patties.
Place remaining bread crumbs on a dish. Dip the patties in the eggs, then roll in the bread crumbs, coating evenly.
In a medium bowl, combine the yogurt and pepper with the remaining garlic, salt, and parsley. Mix well. Cover and set aside.
Heat half the oil in a skillet over medium heat. Cook 8 patties until golden brown, about 2 minutes per side. Drain on paper towels.
Add remaining oil, if necessary, and cook remaining patties, 2 minutes per side. Drain. Serve with the yogurt dip.
Serves 4.
Information
Category

Main Dishes, Beans

Cuisine

Mediterranean/Middle Eastern