Fast, Easy, Vegetarian Recipe For Rice Salad With Peppers and Beans
Monday's Leftovers: Rice With Roasted Peppers and Beans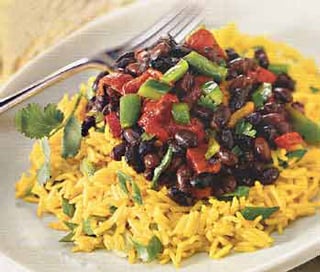 If you love the Cajun combination of red beans and rice but don't always have the time to make it, turn to a Southwestern version that's as easy on the effort as it is on the palate. While you boil basmati with the earthy essence of cumin, marry leftover black beans with chipotles in adobo, peppers, and cilantro. The result: a wholesome dinner that's full of flavor, in less time than it takes to place and pick up an order. For the recipe, read on.


Rice Salad with Roasted Peppers and Black Beans
From Bon Appétit
Ingredients
4 teaspoons ground cumin
1/4 cup fresh lime juice
2-1/2 tablespoons vegetable oil
1/2 teaspoon turmeric
2 cups water
1 cup basmati rice
1 teaspoon salt
1/2 cup thinly sliced green onions
1 15- to 16-ounce can black beans, rinsed, drained
1/2 cup chopped roasted red peppers from jar
1/2 cup chopped green bell pepper
1/3 cup chopped fresh cilantro
1-1/2 teaspoons minced chipotle chilies
Directions
Stir 3 teaspoons cumin in small dry skillet over medium heat just until fragrant, about 1 minute. Remove from heat. Whisk lime juice and oil into skillet.
Stir turmeric and remaining cumin in heavy medium saucepan over medium heat until fragrant, about 1 minute. Add 2 cups water, rice and salt; bring to boil. Reduce heat to low and cover; simmer until water is absorbed, about 15 minutes. Cool rice. Mix onions and half of dressing into rice. Season with salt and pepper.
Combine black beans, all peppers, cilantro, chipotle chilies, and remaining dressing in medium bowl. Toss to coat. Season with salt and pepper.
Mound bean mixture in center of platter. Surround with rice salad.
Makes 4 main course servings.