Fast and Easy Zucchini Salad Recipe
Get Hooked On Zucchini With This Salad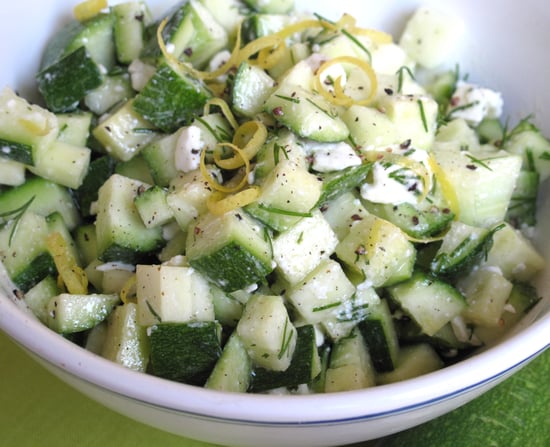 I'm convinced that nature knows best, because just as I started brown-bagging my lunch again, my local supermarket was offering late Summer vegetables at rock-bottom prices. Zucchini at 59 cents a pound? I decided it was time to start hoarding.
Ideally, zucchini has a nice crunch and a subtle, botanical flavor that's best brought out with a minimalist dressing like this one — olive oil, lemon, dill, and a sprinkling of feta. Eat it right away, or better yet, bring it to work or school, and over the course of a few hours the flavors will meld together nicely. Read ahead for the recipe.
Ingredients
2 small or 1 medium zucchini, trimmed and cut into 1/2-inch cubes
3/4 cup (3 ounces) crumbled feta cheese
3 tablespoons extra-virgin olive oil
2 tablespoons small dill sprigs
1 tablespoon plus 1 teaspoon fresh lemon juice
1 tablespoon thin strips lemon zest
Directions
Toss together zucchini, cheese, oil, dill, and lemon juice. Season with salt and pepper. Sprinkle with lemon zest.
Makes 3 cups, or enough to serve 4 as a side salad.
Information
Category

Vegetables, Salads

Cuisine

North American