Fast Poached Fish Recipe
Fast & Easy Dinner: Poached Halibut and Peppers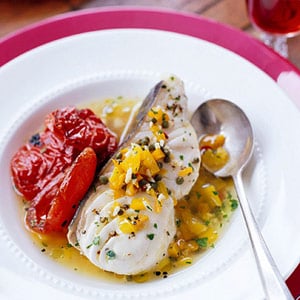 When we asked you what your culinary resolutions for 2010 were, Filmgirl81 said that she hopes to "cook more fish" because it's way "cheaper to make at home and very healthy." I couldn't agree with her more, and that's why I found this delectable-sounding poached halibut recipe. Thick fillets are simmered in a light liquid of white wine and water. Red bell peppers provide a pop of color and permeate the dish with a subtly sweet flavor. The resulting fish is flaky and moist. For a midweek pick-me-up, serve with mixed greens lightly dressed with dijon vinaigrette and a glass of the leftover white wine. Look at the simple but satisfying recipe after the jump.
Poached Halibut and Peppers
Ingredients
1-1/2 cups dry white wine (Sauvignon Blanc or Pinot Grigio) or chicken broth
1 cup water
2 medium yellow sweet peppers, chopped (1-1/2 cups)
3 Tbsp. drained capers
4 cloves garlic, minced
1/4 to 1/2 tsp. crushed red pepper
4 halibut steaks (1-1/2 to 1-3/4 lb.) or 4 cod or other whitefish fillets
Salt and freshly ground black pepper
2 Tbsp. basil oil or olive oil
Coarsely chopped fresh parsley
Directions
For poaching liquid, in a large skillet combine wine, water, sweet pepper, capers, garlic, and crushed red pepper. Bring to boiling; reduce heat. Simmer, uncovered, for 7 minutes, stirring occasionally.
Place fish in a single layer in the poaching liquid in the skillet. Season fish with salt and pepper. Spoon liquid over fish. Return to simmer.
Cook, covered, 4 to 6 minutes per 1/2-inch thickness of fish until fish flakes easily when tested with a fork.
Remove fish to serving platter and pour poaching liquid to a small serving pitcher. Drizzle cooked fish with the basil oil or olive oil and a little of the poaching liquid. Sprinkle with parsley. Serve with remaining poaching liquid.
Serves 4.
Information
Category

Main Dishes, Fish

Cuisine

Mediterranean/Middle Eastern