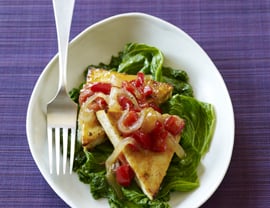 When cooking quick and uncomplicated meals, don't be afraid to take some help from store-made sauces, condiments, and jams. This recipe is packed with exotic and spicy flavor thanks to a purchased hot mango chutney. The chutney is jazzed up with sautéed onions and peppers before being brushed onto triangles of tofu. Steamed mustard greens act as a bed for the tofu and veggies, but other greens like broccoli rabe or collard greens would work.
To serve this vegetarian dinner, get the recipe now.
Ingredients
2 Tbs. canola oil
1 small onion, quartered and thinly sliced (1/2 cup)
1 small red bell pepper, coarsely chopped (1/2 cup)
¾ cup hot mango chutney, such as Patak's
1 medium tomato, coarsely chopped (3/4 cup)
2 16-oz. pkgs. extra-firm tofu, drained and patted dry
2 12-oz. bunches mustard greens, thick stems removed
Directions
Heat oil in medium-size saucepan over medium heat. Add onion and bell pepper, cover, and cook 10 to 15 minutes, or until vegetables are soft, stirring occasionally.
Stir in mango chutney and tomato. Cover, and simmer 5 minutes more. Keep warm.
Preheat oven to broil, and place oven rack in highest position. Coat baking sheet with nonstick cooking spray.
Halve each tofu block crosswise to make pieces the size and thickness of sandwich bread. Cut each tofu piece into 4 triangles. Brush each tofu triangle on both sides with mango mixture (it's OK if some bell pepper and onion bits stick to tofu); season with salt and pepper, if desired; and place on prepared baking sheet. Broil 4 to 5 minutes. Flip triangles, and brush with more mango mixture. Broil 4 to 5 minutes more, or until browned and crispy.
Meanwhile, bring 1 cup water to a boil in large pot. Add mustard greens, cover, and steam 5 to 7 minutes or until greens are crisp-tender, turning occasionally with tongs to make sure greens cook evenly.
Divide mustard greens among serving plates. Top each serving with 2 tofu triangles, and drizzle with1/4 cup mango sauce.
Serves 8.
Information
Category

Main Dishes, Tofu