Fast Vegetable Pasta Recipe
Make the Most Out of Your Vegetable Crisper With Rainbow Pasta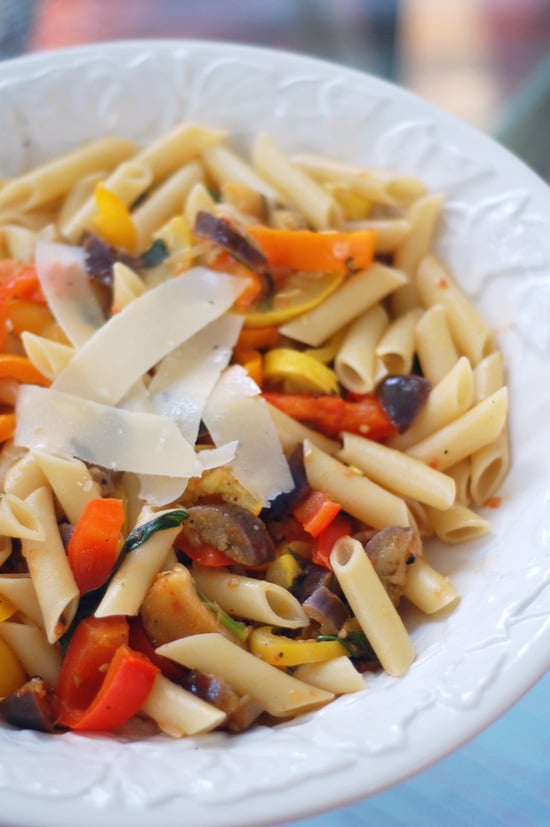 For reasons that are beyond my control, the other day I found myself faced with a pile of colorful vegetables that were too beautiful and flavorful to go unused. Not wanting to be wasteful (it is Eco Month, after all), I decided to keep things straightforward and cook everything together with some white wine and fresh herbs, and mix it with some penne pasta.
The flavor of the bell peppers is pretty overpowering, which is a good thing if you're a fan. If not, use fewer peppers and throw in another of your favorite vegetables. An addition of onion or zucchini would go very well in this recipe. There's no heavy sauce in this dish, just one grated tomato, so it's important not to overcook your pasta.
In less than 30 minutes you will have a colorful dish that is satisfying, but doesn't leave you feeling weighed down. Serve it warm, topped with some Parmesan shavings, or cold as a side dish. It's even better the next day when the flavors have had a chance to come together.
Vegetable Medley Pasta
From Camilla Salem, YumSugar
Ingredients
2 cups dry penne
3 tablespoons olive oil
1 clove garlic, minced
2 shallots, thinly sliced
1 red bell pepper, sliced
1 orange bell pepper, sliced
1 yellow bell pepper, sliced
1 yellow crookneck squash, halved and sliced
1 Japanese eggplant, quartered and sliced
1 large fresh tomato or 2 canned tomatoes, grated
1/2 cup dry white wine
1 1/2 teaspoons salt
1/2 teaspoon black pepper
1/4 cup basil, cut into a wide chiffonade
1/4 cup parsley, roughly chopped
Parmesan cheese, for shaving as garnish
Directions
Bring a large pot of water to a boil. Add pasta and cook until noodles are soft but still have a bit of a bite to them.
Meanwhile, heat oil in a large sauté pan over medium-high heat with garlic and shallots. When things begin to sizzle add bell peppers, squash, and eggplant. Stir everything around and let vegetables begin to soften.
Add grated tomatoes, wine, salt, and pepper, and cook down until vegetables are soft and most of the liquid has evaporated, about 5 to 7 minutes.
Remove from heat. Add basil and parsley. Stir into the vegetables until the herbs are wilted.
Drain the pasta, but reserve 1/2 cup of the pasta water.
Empty pasta into a large serving bowl, add pasta water, and top with vegetable mixture. Stir everything together so that it's evenly incorporated. Top with Parmesan shavings.
Serves 4 to 6.
Information
Category

Main Dishes

Cuisine

North American