Fava Bean Crostini Recipe
Killer App: Fava Bean Crostini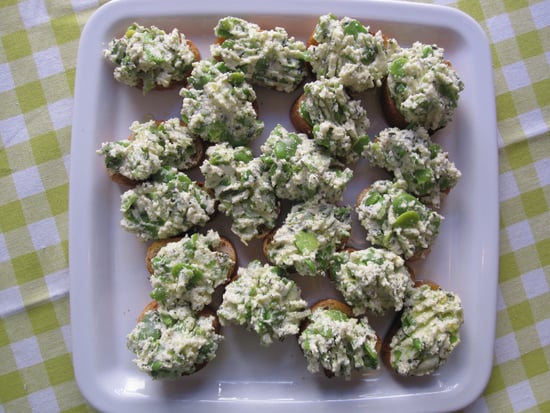 I've never met a crostini recipe I didn't like and this one with fresh fava beans and pecorino romano cheese is like taking a bite of Spring. It's light, salty, and herbaceous. Although it takes some time to shell and prepare the beans, once you've completed this step, it's easy to combine the ingredients and slather on crispy toast. If you can't find pecorino, substitute parmesan. Serve with sparkling rosé or crisp white wine and you've got the ideal hors d'oeuvre for any seasonal celebration. To check out the uncomplicated recipe, keep reading.
Ingredients
1 1/2 pounds fresh fava beans (in their pods)
1/2 C ricotta cheese (whole or part-skim)
3/4 C Pecorino Romano or Parmigiana-Reggiano cheese, finely grated
1 Tbsp fresh mint, finely chopped
1/2 teaspoon lemon zest
2 Tbsp extra virgin olive oil
Generous salt and freshly ground black pepper, to taste
1 Baguette
Directions
Preheat oven to 425 degrees.
Shell the beans and discard the pods.
Heat a medium saucepan of salted water to a boil. Cook favas for 5 minutes until tender. Drain in a colander over the sink and rinse with cold water to cool.
Remove the white casings from the individual beans and discard; the shelled bean will be a lively green color. You'll want a generous cup of shelled beans.
Put the shelled favas and the remaining ingredients in a bowl. Mash with a fork until some of the beans are crushed and some remain whole.
Slice baguette into 1/4-inch slices. Toast the bread slices in the oven for 10-12 minutes.
Spread a heaping tablespoon (more or less to your liking) of the bean mixture on the baguette slices. Drizzle with additional olive oil, if desired and enjoy.
Serves 6-8.
Information
Category

Appetizers, Crostini

Cuisine

North American