Fennel, Tangerine, and Candied Walnut Salad Recipe
Fast & Easy Dinner: Tangerine and Candied Walnut Salad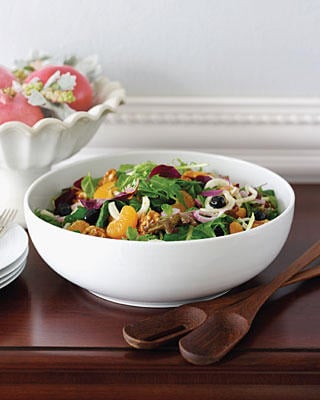 When making a salad that is to be the main course of a meal, I like to take the time to ensure that the salad is really special. The more fresh flavors and interesting textures it has, the more satisfying the salad will be. This recipe guarantees a hearty and memorable dinner salad. It combines sweet and crunchy candied walnuts with crisp fennel, juicy tangerine segments, and salty olives. A bright apple cider vinaigrette coats the greens and veggies. If you enjoy cheese in salads, toss in some crumbled goat cheese. Learn how to assemble this simple but stunning salad after the break.


Ingredients
Candied Walnuts
1⁄2 cup sugar
1 cup walnut pieces
Dressing
1⁄2 tsp grated tangerine or clementine peel
1⁄3 cup fresh-squeezed tangerine or clementine juice
1⁄3 cup extra-virgin olive oil
1 Tbsp cider vinegar
1⁄4 tsp salt
1⁄4 tsp freshly ground pepper
1 medium bulb fennel (anise), stalks and leaves removed, bulb halved lengthwise and thinly sliced crosswise
1 small red onion, halved and thinly sliced
10 oz mixed baby salad greens (about 12 cups)
6 small tangerines or clementines, peeled and sectioned
1⁄2 cup oil-cured black olives, pitted
Directions
Candied Walnuts: Line a baking sheet with nonstick foil. Put sugar and 2 Tbsp water in small saucepan. Swirl pan to moisten sugar evenly. Bring to a simmer over medium heat and cook until sugar melts and caramelizes to a rich amber-brown color (watch carefully that it doesn't burn). Remove from heat, add walnuts and stir with a fork to coat nuts. Lift nuts to prepared baking sheet, separating nuts with the fork into an even layer. Let cool until caramel hardens.
Whisk Dressing ingredients in a large bowl to blend.
Add fennel and red onion; let stand 15 minutes to soften slightly.
Add re­maining ingredients and walnuts; toss to mix. Transfer to a serving bowl.
Serves 6-8.
Make ahead: The walnuts can be candied up to 4 days ahead. Store airtight at room temperature. The dressing and salad ingredients can be prepared up to 8 hours ahead. Bag separately and refrigerate. Toss salad with dressing just before serving.
Information
Category

Salads, Main Dishes

Cuisine

North American