Fiddlehead Fern Salad Recipe
Perfectly Seasonal: Warm Fiddlehead Fern Salad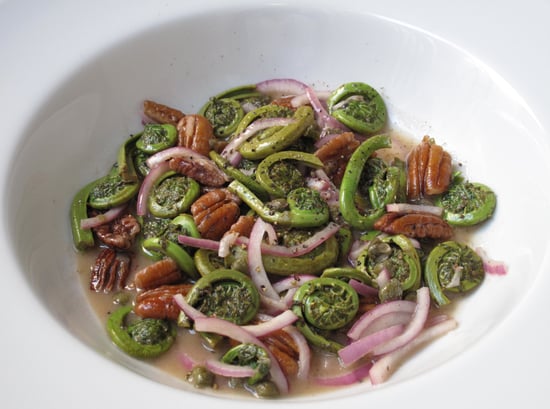 Fiddleheads — unfurled sprouts of the ostrich fern plant — are one of the Spring forager's most prized picks. They're not the easiest to track down, nor are they the most straightforward when it comes to cooking preparation, as they must be properly cleaned and then blanched before consuming. But all it takes is one taste, and you'll be sold.
It was deep in the rainforests of Taiwan's Hualien province that I had my first bite of the fiddlehead, then not even knowing its name. There, Taiwanese aborigines tossed it with other vegetables in a light stir-fry that revealed the plant's delicately herbaceous quality.
Since then, I've discovered one of my favorite ways to prepare the delicacy is to quickly sauté blanched fiddleheads in a warm salad dressing of cognac, red wine vinegar, and dabs of butter. For my favorite twist on the seasonal specialty, keep reading.
Warm Fiddlehead Salad With Cognac Vinaigrette
Adapted from Jiri Krejcir, The White Peach, Gaylordsville, CT
Ingredients
1 tablespoon vegetable oil
3 tablespoons pecans
1/3 pound fiddlehead ferns, cleaned, soaked, and removed of any brown papery coating
1/2 tablespoon capers
Salt and pepper
1 tablespoon red wine vinegar
1 tablespoon cognac
2 tablespoons cold butter, cut into pieces
1/3 small red onion, thinly sliced
Directions
First, blanch the fiddleheads: Bring a pot of water to a boil and drop in the fiddleheads, cooking them for 2 minutes, then straining them out and plunging the ferns into an ice bath.
Heat a sauté pan with the oil; add the pecans and toast slightly in hot oil for 2-3 minutes, stirring to prevent burning. Add fiddleheads, capers, salt, and pepper, and sauté quickly over high heat. Carefully, add vinegar and cognac.
Dot the cold butter pieces on top of the hot ingredients in the pan; swirl in until dissolved. Sprinkle in sliced onions and tomatoes, if desired, and add more salt and pepper (if necessary) to taste.
Serves 1.
Information
Category

Vegetables, Salads

Cuisine

North American