Fig and Goat Cheese Scones
Everybody Must Get Scones
On a recent trip to my local farmers market, I discovered a bunch of beautiful baskets overflowing with figs. Figs have a quick season, so I knew I had to make something pronto! Rather than bake or poach the fruit as I usually do, I wanted to try something new.

I decided to alter Nicole's strawberry-goat cheese scone recipe with my farmers' market figs. The figs perfectly complemented the subtle flavor of the creamy goat cheese.
I opted for a drop-style biscuit rather than a traditional wedge scone, but regardless of the shape it tasted delicious! To learn how to make these simple and scrumptious scones read more!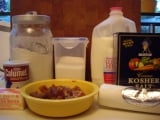 Ingredients
2 cups all-purpose flour
1 Tbsp. baking powder
1/2 tsp. salt
3 tsp. sugar
1/3 cup butter, chilled and cut into large pieces
1/2 cup low-fat milk
1/2 cup crumbled goat cheese
3/4 cup diced figs
Directions
Preheat oven to 400°F. Line a baking sheet with parchment paper. Combine flour, baking powder, salt, and sugar.
Gently add in butter and toss to coat. Using your finger tips, rub the butter into the flour mixture until it resembles very coarse sand.
Add about 1/2 cup milk and goat cheese and stir, adding additional milk if necessary, until dough comes together into a slightly sticky ball.
Mix the figs in gently by hand, lightly kneading the dough to evenly distribute the fruit.
For a drop biscuit-like form, make 2-inch balls of dough, placed on the cookie and flattened to 1-inch thickness. For a more traditional scone shape, place dough on prepared baking sheet and press down into a disc that is about 1-inch thick. Use a sharp knife to cut dough into 6 triangles. Separate slightly, giving them room to spread, and place pan in the oven.
Bake for 15-20 minutes, until scones are light gold on top. Let cool on a wire rack before serving. Scones can be served warm or at room temperature.
Makes 12 drop-style scones.
Information
Category

Breads, Breakfast/Brunch

Cuisine

English/Scottish/Irish