First National Food Day Since 1977
Food Day Strives to Reconnect People to Their Grub
Today may just mark a great shift in reeducating American people about the direct connection our bodies have to our food. For the first time since 1977, Food Day, a grassroots movement whose "goal is nothing less than to transform the American diet," has a national footprint. At its core, Food Day aims to mobilize the American public to get serious about more sustainable and humane food policies for the future.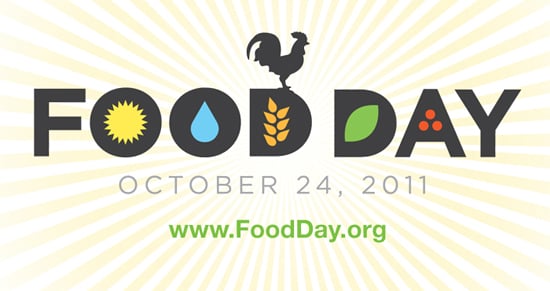 While there are more than 2,000 different Food Day events being held around the country, they all share a common, admirable goal: reconnect Americans to their food sources. While many people are aware of the statistics associated with a diet made up of modified foods, they're still under the impression that healthful eating tastes, well, healthful. But Food Day makes the bold and true statement that "real food tastes great." Some of America's most known and loved celebrity chefs have stepped up to the plate. Mario Batali, Emeril Lagasse, and Ellie Krieger have all offered Food Day recipes in support of the celebration! Keep reading to learn about Food Day's specific goals.
Here are the six Food Day principles outlined by the organization:
Reduce diet-related disease by promoting safe, healthy foods.
Support sustainable farms and limit subsidies to big agribusiness.
Expand access to food and alleviate hunger.
Protect the environment and animals by reforming factory farms.
Promote health by curbing junk-food marketing to kids.
Support fair conditions for food and farm workers.
What are your thoughts on the national event? Are you doing anything to observe Food Day today?