 With their crisp, crunchy skin and flaky, hot flesh, fish tacos are sublimely delicious. I always order fish tacos out but rarely make them in. To encourage both you and I to experiment with fish tacos at home, I've found two recipes.
One is quite simple and the other is quite complicated. Because deep frying fish fillets is not for everyone, the first recipe uses premade crunchy fish tenders. Feel free to take components of each recipe to make your own appetizing variation. For both recipes,
.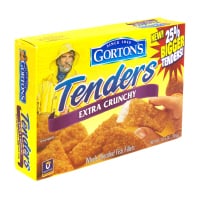 Ingredients
1 10.6-ounce package Gorton's Extra Crunchy Fish Tenders
3 8-inch flour tortillas
1 small red onion, thinly sliced
1 10-ounce jar tartar sauce
1 1/2 cups shredded Romaine lettuce
Directions
Bake the fish according to the package directions.
Wrap the stack of tortillas in foil and place in the oven during the last 5 minutes of baking.
To assemble the tacos, place the warm tortillas on serving plates, put 2 tenders on each tortilla, and cover with a few slices of the onion. Add a dollop of the tartar sauce and top with 1/4 cup of the lettuce. Fold over and serve.
Serves 6.
NUTRITION PER SERVING: CALORIES 469(63% from fat); FAT 33g (sat 2g); PROTEIN 7mg; CHOLESTEROL 55mg; CALCIUM 57mg; SODIUM 812mg; FIBER 1g; CARBOHYDRATE 32g; IRON 2mg
Information
Category

Main Dishes, Fish

Cuisine

Mexican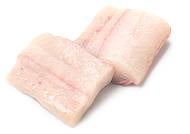 Ingredients
Pickled Red Onion and Jalapeños
1 red onion (about 12 ounces), halved lengthwise, cut thinly crosswise
5 whole small jalapeños
2 cups seasoned rice vinegar
3 tablespoons fresh lime juice
1 tablespoon coarse kosher salt
Baja Cream
1/2 cup mayonnaise
1/2 cup sour cream
2 tablespoons fresh lime juice
1 teaspoon (packed) finely grated lime peel
pinch of salt
Tomatillo Salsa Verde
12 oz tomatillos,* husked, stemmed, divided
4 green onions, white and green parts separated
1 jalapeño chile
2 garlic cloves, unpeeled
1 1/4 cups (packed) fresh cilantro leaves
1 tablespoon (or more) fresh lime juice
Fish
2 cups buttermilk
1/2 cup chopped fresh cilantro
3 tablespoons hot pepper sauce
3 teaspoons coarse kosher salt, divided
1 tablespoon fresh lime juice
2 pounds skinless halibut, sea bass, or striped bass fillets, cut into 1/2x1/2-inch strips
16 corn tortillas
2 cups self-rising flour
Vegetable oil (for frying)
Fresh Salsa
Guacamole
Directions
For pickled red onion and jalapeños: place onion and jalapeños in heatproof medium bowl. Mix vinegar, lime juice, and salt in small saucepan. Bring just to boil, stirring until salt dissolves. Pour over onion and jalapeños. Let stand at room temperature at least 1 hour and up to 8 hours. Can be made 1 week ahead. Cover and refrigerate.
For baja cream: whisk all ingredients in small bowl. Can be made 3 days ahead. Cover and refrigerate.
For tomatillo salsa verde: preheat oven to 375°F. Lightly oil roasting pan.
Char half of tomatillos, white parts of green onions, and jalapeño directly over gas flame or in broiler. Transfer charred vegetables to prepared roasting pan. Add remaining tomatillos and garlic cloves to pan. Roast until all vegetables are soft, about 12 minutes. Cool.
Steam and seed jalapeño. Place all roasted vegetables, green onion tops, cilantro, and 1 tablespoon lime juice in blender. Puree until smooth, stopping to push vegetables down into blades several times. Transfer to medium bowl. Season with salt and more lime juice, if desired.
For fish: mix buttermilk, cilantro, pepper sauce, 1 teaspoon salt, and lime juice in large bowl. Add fish; toss. Cover; chill at least 1 hour and up to 3 hours.
Preheat oven to 300°F. Wrap tortillas in foil; place in oven to warm.
Whisk flour and remaining 2 teaspoons salt in medium bowl. Add enough oil to large skillet to reach depth of 1 inch. Heat oil until thermometer registers 350°F.
Working in batches, remove fish from marinade and dredge in flour. Carefully add fish to skillet, cover partially, and fry until golden brown, turning occasionally, about 4 minutes. Transfer to paper-towel-lined baking sheet to drain, then transfer to oven to keep warm.
Set up buffet with all taco fixings, along with fresh salsa and guacamole.
Serve 6-8.
Information
Category

Main Dishes, Fish

Cuisine

Mexican