Fish Tostadas With Chili Lime Cream Recipe
Fast & Easy Dinner: Fish Tostadas With Chili Lime Cream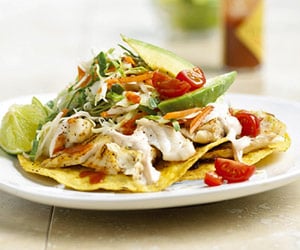 While I'm a huge fan of the Baja-style fish taco, with crispy fried fish and a soft corn shell, when I make Mexican seafood dishes at home, I prefer not to fry the fish. Instead, I broil or bake it. This recipe is a perfect example of that simple technique. It tops crunchy tostada shells with broiled tilapia, shredded cabbage, and a chili lime cream. The resulting meal, which tastes healthy and fresh, is full of textures and flavor. To make this for your family, get the recipe.
Fish Tostadas With Chili Lime Cream
Ingredients
1 lb. fresh tilapia or cod fillets
1/2 tsp. chili powder
1 lime, halved
1/2 cup sour cream
1/2 tsp. garlic powder
8 6-inch tostada shells
2 cups shredded cabbage mix
1 avocado, halved, seeded, peeled, and sliced (optional)
1 cup cherry tomatoes, quartered (optional)
Bottled hot pepper sauce (optional)
Directions
Preheat broiler. Sprinkle fish with 1/4 teaspoon of the chili powder and 1/4 teaspoon salt.
For chili-lime cream, in bowl squeeze 2 teaspoons juice from half the lime. Stir in sour cream, garlic powder, and remaining chili powder; set aside. Cut remaining lime half in wedges for serving.
Place fish on unheated greased broiler rack; tuck under thin edges. Place shells on baking sheet on lowest rack. Broil fish 4 inches from heat 4 to 6 minutes per 1/2-inch thickness, until fish flakes with fork. Break in chunks.
Serve tostadas with cabbage, chili-lime cream, avocado, tomatoes, lime, and pepper sauce.
Serves 4.
Information
Category

Main Dishes, Fish

Cuisine

Mexican