Flank Steak Salad Recipe
Fast & Easy Dinner: Flank Steak Salad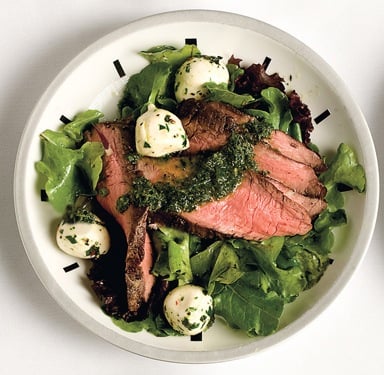 I think it's safe to say that everyone knows a quintessential meat and potatoes guy. You know, the guy who only enjoys lettuce when it's paired with bacon and blue cheese dressing. The guy who consumes burgers and fries, but turns up his nose at eggplant and whole grains. In my life, this guy is my dad, and slowly but surely, with recipes like the one seen here, I'm trying to get him to eat more healthy foods.
It's a salad of mixed greens — an ingredient my father lovingly refers to as "weeds" — that's topped with grilled steak, marinated fresh mozzarella balls, and a quick chimichurri sauce. Since he loves steak, cheese, and chimichurri, it's a compromise. He gets to enjoy those components as long as he eats his greens! You'd be surprised at how well this technique works. To try it with your "that guy," get the recipe now.
Ingredients
1 large bunch fresh Italian parsley
2 tablespoons fresh oregano leaves
3 garlic cloves, peeled
1/2 cup olive oil
1/4 cup red wine vinegar
1 teaspoon chipotle hot pepper sauce
1 1 1/2-pound flank steak
8 ounces mixed baby greens
1 12-ounce container marinated small fresh mozzarella balls, drained
Directions
Prepare barbecue (medium-high heat).
Combine parsley (with stems), oregano, and garlic in processor; blend 10 seconds. Add 1/2 cup oil, vinegar, and hot pepper sauce; blend until almost smooth. Season dressing to taste with salt and pepper.
Brush grill rack with oil. Sprinkle steak on both sides with salt and pepper. Grill steak to desired doneness, about 5 minutes per side for medium-rare. Transfer steak to work surface; let rest 5 minutes.
Meanwhile, toss greens in large bowl with some dressing. Transfer to large platter. Sprinkle mozzarella over.
Thinly slice steak across grain on slight diagonal. Arrange steak atop greens. Drizzle with remaining dressing.
Serves 6.
Information
Category

Salads, Main Dishes

Cuisine

North American